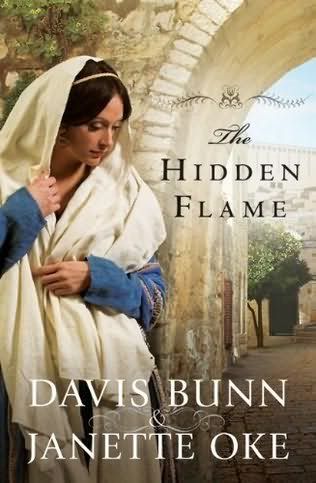 The Hidden Flame
by
Davis Bunn
and
Janette Oke
(Acts of Faith, Book 2)
Genre: Christian Historical Fiction, Biblical Fiction
Pages: 394
Date Published: February 2010
Publisher:
Bethany House
Rating: 4 of 5
Back-of-the-cover blurb:
In first-century Judea, the followers of the Way have burgeoned into a vibrant, growing community that cannot be ignored. Jerusalem is in turmoil as its religious leaders on one side, and their Roman rulers on the other, conspire to stamp out the fledgling Church. And Abigail, who thought she had finally found home and safety, is caught between the opposing forces.
Two suitors desire the lovely Abigail's hand in marriage. Ezra, a successful Hebrew merchant and widower with important connections among the Sanhedrin, is looking for a mother for his children. The Roman soldier Linux is fascinated by her winsome charm and possibly could offer the sanctuary--maybe even the love--for which she yearns. But her heart has been captured by neither of these. Will her faith and courage survive a heartbreak beyond comprehension as the followers face a gathering storm of persecution they never could have foreseen?
The Hidden Flame
is the second book in Davis Bunn and Janette Oke's Acts of Faith series. I read and reviewed the first book,
The Centurion's Wife
in October. After waiting several months to find out what would happen to Alban and Leah, they very quickly leave the story in
The Hidden Flame
and become secondary characters.
The Hidden Flame
focuses on Leah's friend Abigail and the men who would vie for her hand in marriage (Alban's friend Linux and Hebrew merchant Ezra).
The setting of this book is fascinating, just as in the first book of the series. Abigail is living among the early Christians, helping Martha every day with her duties taking care of orphans and widows as well as the disciples and their followers, taking on new duties as assigned by the apostle Peter, forming a friendship with Stephen (who becomes the first Christian martyr), and living during a period of time of increasing tension between Jews and followers of The Way, whose numbers were increasing daily. Abigail is at the center of this historic time and these historic events, experiencing God's healing and the beginning of the persecution of the early church.
I also thought the branches of the story that focused on Abigail's suitors were interesting as well. They both were witness to miracles and they both felt the Holy Spirit calling to them, but only one of them came to accept Christ and become one of his followers. The other let his jealousy and anger lead him to a position where he became a vocal opponent of Christ's followers. The different paths the men end up taking are thought-provoking.
Anyway, I enjoyed this newest book in the series, even though it ended at a bit of a cliffhanger (just like the first book did). I have no idea when the next book in the series is going to be released (or who it is going to focus on), but I am looking forward to it. I don't often read biblical fiction, but I have found this series to be very engaging. It is awe-inspiring to imagine actually living during that historic time and I've enjoyed gaining a better understanding of what life was like then. I have especially enjoyed learning more about what life was like for women in that time and place and what it was like for gentile converts in the early Church. If you have any interest in fiction set immediately following the crucifixion of Christ, you would probably enjoy this series.
**I received a copy of this book for review from the publisher, Bethany House, through their
Bethany House Book Reviewers program
(for more information on my reviews, please view my
disclosure policy
).**
Reading Challenges: Christian Historical Fiction Challenge, Historical Fiction Reading Challenge.