I adore this cover. I love how it looks like vintage Rosie the Riveter. I saw this and put it on my wishlist right away! Books set in World War II are something I've enjoyed in the past but haven't read recently. So, this is both Eye Candy and Wishlist material.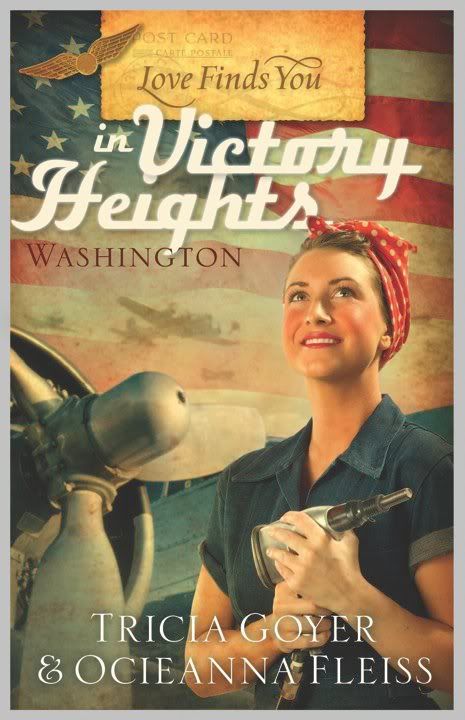 Love Finds You in Victory Heights, Washington
by
Tricia Goyer
and
Ocieanna Fleiss
Genre: Christian Historical Fiction, Romance
Publisher: Summerside Press
ISBN: 9781609360009
Release Date: July 1, 2010
Book description (from
Tricia Goyer's website
):
The war has stolen Rosalie's fiancé, Vic, from her forever. But rather than wallow, Rosalie distracts herself by cramming her days full of activity—mainly by shooting rivets into the B-17 bombers that will destroy the enemy. When a reporter dubs her "Seattle's Own Rosie the Riveter," even more responsibility piles up. Her strong arms bear all this, but when intense feelings surface for Kenny, the handsome, kind-hearted, and spiritually unwavering reporter, the fear of losing another love propels Rosalie to leave. It's only when Rosalie realizes that God has brought her to this place—and this person—for a reason, the sparkling grace of God compels her to let go of her own strength and lean on His, as well as open her heart to love.
I can't wait to get my hands on a copy!
Eye Candy is a feature that was inspired by Marcia's
Cover Attraction
posts at
The Printed Page
and Daphne's
Cover Slut
posts at
Tanzanite's Shelf and Stuff
.
21 Pages
has also started up a new meme called "
Cover Love
" that you should check out as well!