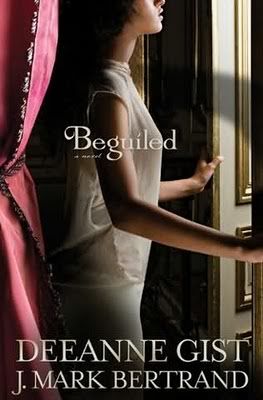 Beguiled
by
Deeanne Gist
and
J. Mark Bertrand
Genre: Romantic Suspense/Mystery, Christian Themes, Contemporary Fiction
Pages: 332
Date published: March 2010
Publisher: Bethany House
Rating: 4 of 5 stars
Back-of-the-book blurb:
Rylee Monroe, a dogwalker in Charleston's wealthiest neighborhood, never feared the streets at night. But now a thief is terrorizing the area and worse, someone seems to be targeting her.

Reporter Logan Woods is following the break-ins with the hope of publishing his coverage as a true-crime book. The more he digs, the more he realizes this beguiling dogwalker seems to be at the center of everything.
As danger draws ever closer, Logan must choose: Chase the girl, the story, or plunge into the shadows after the villian who threatens everything?
I just read my first Deeanne Gist novel earlier this year (
A Bride Most Begrudging
) and enjoyed it, then found out she had co-written with J. Mark Bertrand a book in another of my favorite genres--mystery. I just had to read it. I'm so glad I did!
Beguiled
has a lot of things going for it. The characters are interesting. Rylee is a dogwalker struggling to take care of her grandmother, who is living in a nursing home, as well as taking care of herself. She loves her job, and loves her clients (the pets) even more. She is a very likable girl. Logan is a bit edgier--he's a journalist working to land a big true-crime novel, so you're not always sure if he's being motivated by the most honorable intentions. But the better that Rylee (and the reader) gets to know him, the more likable he becomes. And the detective, Nate Campbell... Well let's just say I wished I could kick him in the shins throughout the story. Even by the end he hadn't totally redeemed himself in my eyes.
The mystery is pretty suspenseful too. At first it doesn't seem like that big of a crime spree--someone is breaking into houses and stealing one item to donate to charity. But as the break-ins escalate in damage done and as the police look closer at Rylee's connection to them, the mystery becomes more intense. I didn't always understand Rylee's decisions (she was way too trusting of the neighborhood at night), but I could still worry and hope that she would come out of her dilemmas safely.
I will admit that I had a very slight hunch about who the bad guy was at the beginning (which turned out to be true), but that hunch changed several times during the story, so I can't say that it was totally predictable. It actually ended up bringing forward a fairly sophisticated tangle of motives and revelations that I was absorbed by as it unfolded. On a personal level, I enjoyed watching Rylee as she learned to let down the barriers, erected by childhood tragedies, that had prevented her from making very many close friends in her adulthood. I also enjoyed the way the authors tied in the Charleston setting-- I've never been there but I really could picture it in my head. Their note at the end also says that "you can walk the streets of Charleston with
Beguiled
in hand, retracing Rylee's routes.... sip coffee at City Lights, attend a service at First Scots Presbyterian, or have a meal at Slightly North of Broad..." (331-332). If I ever visit Charleston I would be really tempted to do just that.
This was a fun read--I found myself laughing out loud at times and nervously turning the pages as fast as I could read them at others. If you like mystery with a touch of romance, this book will be right up your alley!
**I received a copy of this book for review from the publisher, Bethany House, through their
Bethany House Book Reviewers program
(for more information on my reviews, please view my
disclosure policy
).**
Reading Challenges: Thriller & Suspense Challenge