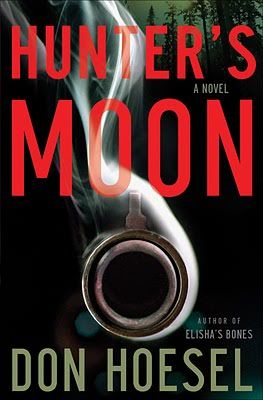 Hunter's Moon
by
Don Hoesel
Genre:
Suspense, Christian Themes
Pages:
382
Date Published:
March 2010
Publisher:
Bethany House
Rating:
3.5 of 5 stars
Back of the book blurb:
Bestselling novelist CJ Baxter has made a career out of writing hard-hitting stories ripped from his own life. Still, there's one story from his past he's never told. One secret that's remained buried for decades.

Now, seventeen years after swearing he'd never return, CJ is headed back to Adelia, NY. His life in Tennessee has fallen to pieces, his grandfather is dying, and CJ can no longer run from the past.

With Graham Baxter, CJ's brother, running for Senate, a black sheep digging up old family secrets is the last thing the family and campaign can afford. CJ soon discovers that blood may be thicker than water, but it's no match for power and money.
I wasn't sure about this one when it was offered for review, but the idea of political scheming and family secrets untold was what pushed me to give this book a try. Plus, I was attracted to the main character being a novelist (I'm a bookworm, novelists intrigue me). The book turned out to be not exactly what I expected. At first, it was really hard for me to get into this book. I wasn't feeling the "suspense" until about 80 pages into the book (in chapter 6). The suspense picked up after that but still lagged in a couple of places until it got to the climax, and then I couldn't stop reading. The ending was a bit abrupt--I wanted to see how CJ's relationship with his Pop was developing (in fact, I'm not even sure if Pop ended up surviving the climax, since he's not mentioned at the end).
A couple of disappointments: the political scheming and scandal was part of the story, but it wasn't detailed. I sort of understood the basics of the deals, but I wanted to see the proof that CJ was gathering, not just be told the conclusion of his evidence. I wanted to know more about the seedy political deals that had been made and how his brother was connected to them. Another disappointment: the faith aspect of this story wasn't very developed. CJ was a new Christian, but he never really sought God's help very often. He acknowledged that only God could fill the void in his life, but his main struggle was to forgive those who had wronged him.
Although the title
is
after all,
Hunter's Moon,
I don't think I was expecting actual hunting to be part of the storyline (it could have been a murderer hunting down his victims). I don't really "get" the allure of hunting, but in this case it wasn't a total turn-off in this story for me. In fact, it ends up providing an interesting and suspenseful backdrop for the climax of the story (the part that made me stay up late to finish so I could find out what happens at the end).
I really enjoyed several of the characters--but I think my favorite was CJ's best friend Dennis. He's a Mohawk Indian who lives on the reservation with his parents and went to school with Dennis. They strike up their friendship again easily, even though it's been almost twenty years since they've spoken. Dennis turns out to be a true and loyal friend to CJ--he's a really nice guy who refuses to boast about himself. There are also some interesting revelations about Dennis that I quite enjoyed regarding a lottery win. I'm not going into more detail than that, but let's just say, I'm a Dennis fan. My least favorite character? I think most of CJ's family (with a couple of exceptions) would fall under that heading.
In the end, once the suspense picked up it was great, but it almost took too long to grab me. I did enjoy this book though, and if you like suspense, hunting, political scheming, and family rivalries, you will love this one.
**I received a copy of this book for review from the publisher, Bethany House, through their
Bethany House Book Reviewers program
(for more information on my reviews, please view my
disclosure policy
).**
Reading Challenges: Thriller & Suspense Reading Challenge