Book Beginnings on Friday is a meme hosted by Becky at Page Turners. Anyone can participate; just share the opening sentence of your current read, making sure that you include the title and author so others know what you're reading. If you like, share with everyone why you do, or do not, like the sentence.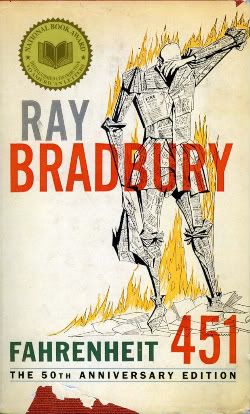 This is my first time reading
Fahrenheit 451 by Ray Bradbury
(ISBN 0-345-34296-8). I'm a little embarrassed that I haven't read it before (it's short and classic), but it won't take me long to remedy that. Here's the first line:
"It was a pleasure to burn."
If you haven't read
Fahrenheit 451
before and aren't sure what this means, I don't want to spoil it too much for you beyond saying that the main character is a fireman, during a time in the distant future when firemen don't put out fires but start them instead. This really caught my interest because my husband is a firefighter. Kind of a funny connection to a book set in a dystopian future, right?