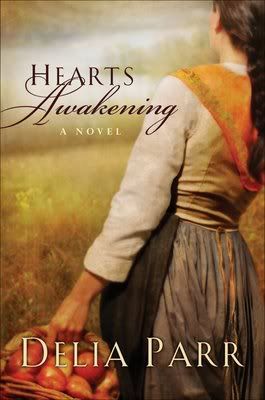 Hearts Awakening
by
Delia Parr
Genre:
Christian Historical Romance
Pages:
352
Date Published:
March 2010
Publisher:
Bethany House
Rating:
4.5 of 5 stars
Back of the book blurb:
Life has left few choices for Elvira Kilmer. Her hopes for marriage and a family of her own have long since passed her by, and her arrival on Dillon's Island, nestled in the Susquehanna River, is not of her choosing, either. She needs work. And Jackson Smith needs a housekeeper. Yet Ellie never imagined the widower would be so young .... so handsome.
Jackson, on the other hand, has never met anyone quite so ... plain. But he quickly comes to realize that Ellie's presence may solve his own problems -- both the rearing of his young boys and the scandal that surrounds his first marriage. When Jackson offers her something quite out of the ordinary, will Ellie look beyond mere necessity and risk opening her heart?
When Ellie and Jackson unite in a marriage of convenience, both of them expect it to be a loveless, celibate marriage. Ellie's fervent wish to take care of a family would be fulfilled in her duties of caring for Jackson's sons and keeping house, and Jackson will be able to manage his apple farm more ably. Their relationship is hindered by Jackson's first marriage, in which his wife was unfaithful and self-centered. Ellie is a no-nonsense woman who puts people before herself and is working on building a stronger relationship with God after a series of disappointments in her life left her faith shaken. If not for her patience and dedication to forgiving Jackson's temper and fighting to hold together their unusual relationship, their marriage may have crumbled. Jackson eventually begins to see that Ellie is so much more than the plain woman he first met, and so very different from his first wife.
This was a wonderful read! Ellie was a beautiful soul with a growing faith in God that had a significant influence on Jackson's own walk with God. She was kind to her stepchildren and determined to help them through their grieving process over their mother. But even in these characteristics where she shines, she also doubted herself a lot--a very realistic emotion for any woman but especially for a woman in her position.
I loved that this romance focused on the inner beauty of the heroine--in my reading experience it is rare to not have the main female character described as a ravishing beauty who the hero can't take his eyes off of. If not traditionally beautiful, then they're pretty in an unusual way--but almost always physically attractive. Instead, Jackson marries Ellie partly because he doesn't feel any physical attraction to her at all, and that will help him to protect his heart and stick with the business at hand. I thought it was moving that he began to see her as a beautiful person as he got to know her personality and character better..
My favorite excerpt:
"But the truth of the matter is that we've all got cracks in our spirits, and we have to remember they're only there because we need them." [Gram said.]
Ellie furrowed her brow. "We do?"
"Of course we do. Otherwise, how could God's grace filter in deep enough to give us the joy and peace we're all searching for in this world? It couldn't, plain and simple." (pg. 152)
I recommend this one! Along with the lovely elements of the romance, the characters and setting are wonderful as well. Give it a try! It may surprise you!
Further reading:
**I received a copy of this book for review from the publisher, Bethany House, through their
Bethany House Book Reviewers program
(for more information on my reviews, please view my
disclosure policy
).**