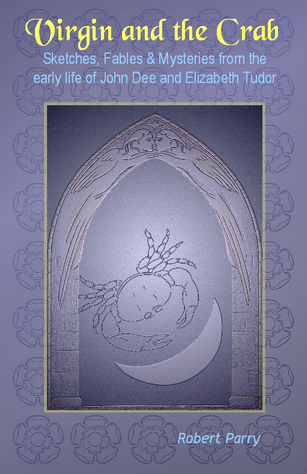 Virgin and the Crab
by
Robert Parry
Genre:
Historical Fiction
Pages:
480
Date Published:
2009
Publisher:
CreateSpace
Source:
The author provided me with a copy for review.
Rating:
4 of 5 stars
Back of the book blurb:
The brilliant young mathematician and astronomer John Dee has one overwhelming obsession: liberty. Abandoned and humiliated, Elizabeth Tudor has one simple aim: survival. This is their story. Against the background of the English Reformation, and threatened by a vengeful and unforgiving Queen, the mysterious brotherhood of the Rose Lodge attempt to guide the nation towards enlightenment and stability. Here, the special alchemy of the Virgin and the Crab works its magic: growing from childhood friendship, through adolescent flirtation, to mutual respect and admiration as together they prepare to sacrifice everything for the world they wish to inherit.
❦❦❦❦❦❦❦
I admit, I'm
not
one of those people who devours every novel about English royalty that they come across. Most of the time I am more likely to pick up a historical fiction book about the common people than about the aristocracy. Despite this predilection, I admit that one of my favorite English monarchs is Elizabeth Tudor, and after watching two motion pictures about her life (
Elizabeth
and
Elizabeth: The Golden Age
) I've been wanting to pick up a book about her. I've seen
Virgin and the Crab
reviewed on a couple of other blogs, but I think the review that stood out to me the most was at
A Reader's Respite
. So when Mr. Parry asked if I'd like to read and review his book, I remembered that review and was pretty quick to say yes. It was a very good choice on my part.
Virgin and the Crab
focuses on Elizabeth's life during the years after her father's death and before her accession to the throne, years of much turmoil and danger for England and for Elizabeth herself. A good portion of the story also focuses on John Dee and the Rose Lodge, who seek to encourage and protect the heirs to the throne that would do the best to keep the nation stable and enlightened. Although they don't entirely succeed in that goal when Mary comes to power, they do manage to help keep Elizabeth alive until Mary's death, even though several of the original members of the Lodge aren't quite as lucky. Since I haven't read a lot of nonfiction on these events, I can't really comment on the ways in which the historical record are fictionalized in this book, but as a work of historical fiction it does make me interested in learning more about this time period and the people in it.
I found the beginning a little bit difficult to get into at first because of the narrator--
he is writing from afar and seems to have little to do with the story except to interject his personal opinions in just a few places
. Other than those few places, the book is mainly written in third person. Once I got used to the narrative style, it wasn't hard for me to become entirely captivated by the story and the characters. John Dee was a fascinating person to learn about--he was a learned scholar, a seemingly pious Protestant Christian, and a man interested in numerology and astrology. He believed the stars and the planets were the messengers of God, and he sought ways to converse with angels. I'm not entirely sure what to think of Dee (his apparent Christian beliefs alongside his interest in science and magic are a bit hard to grasp in this day and age) but Parry does a nice job of portraying him as a loyal and valuable friend to Princess Elizabeth. I think he also comes across as a bit mysterious in the book, which makes me even more curious to learn more about him. Dee was definitely an interesting character.
I also enjoyed Parry's depiction of Queen Mary, who was so paranoid and distrustful of the people around her, and yet appeared sufficiently unsure of herself that she allowed outsiders (especially from Spain and the Roman Catholic Church) to influence her actions. Her religious convictions had such sad repercussions for dissenters. She was not an especially sympathetic character, though her relationship with her husband, Philip II of Spain, was kind of sad. She seemed naive about marriage relationships and it was heartbreaking to watch her celebrate and then despair over her phantom pregnancies. And although we know the eventual outcome, it was actually suspenseful to watch Elizabeth being imprisoned and questioned, with the fear that she may be executed for treason by her half-sister.
This ended up being one of those books that I couldn't put down for very long (if it had been shorter I may have been tempted to read it through in one sitting). I'm not an expert on all things Elizabeth, but I think this book would be well-received by fans of the Tudors and Elizabeth (because of the unusual point of view through John Dee) and by the casual fan (like myself) who isn't as well-read on her life and the people in it. I can definitely recommend
Virgin and the Crab
to fans of historical fiction. It says a lot when a book based on historical events can keep you anxiously turning the pages, even though you know what will happen!
Related Linkage:
Reading Challenges: Historical Fiction Reading Challenge, Typically British Challenge