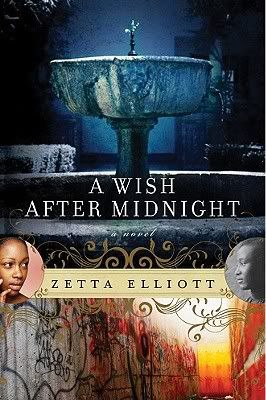 A Wish After Midnight
by
Zetta Elliott
Genre:
YA Historical Fiction/Speculative Fiction
Pages:
270
Date published:
February 2010 (self-published in 2008)
Publisher:
AmazonEncore
Source:
I won a copy in a giveaway at
Color Online
. Thank you!
Rating:
4 of 5 stars
Back-of-the-book blurb:
Genna is a fifteen-year-old girl who wants out of her tough Brooklyn neighborhood. But she gets more than she bargained for when a wish gone awry transports her back in time. Facing the perilous realities of Civil War–era Brooklyn, Genna must use all her wits to survive. In the tradition of Octavia Butler's Kindred and Madeleine L'Engle's A Wrinkle in Time, A Wish After Midnight is the affecting and inspiring tale of a fearless young woman's fight to hold on to her individuality and her humanity in two different worlds.
♦♦♦♦♦♦♦♦
Genna is a teenage girl living with her mother and three siblings in a rough Brooklyn neighborhood. They live in a tiny apartment where not everyone has a bed to sleep in and people deal drugs outside of the front door of their building. It's a sad place to be, but a real place that many urban kids would be familiar with. One of her favorite places to go and escape her life's realities is a neighborhood garden. Whenever she visits, she always makes a wish in the fountain. Among the myriad of wishes that she makes for her mother, her siblings, and herself is this one: "I wish I could go somewhere different, another country, someplace far away. A place where I don't have to feel ashamed of my home, and my clothes, and my short nappy hair that just won't grow. I toss a penny into the fountain and wish I could live inside someone else's body, even for just one day" (2).
After a particularly difficult fight with her mother over her blossoming relationship with a boy named Judah, Genna finds herself at the fountain after midnight, and her wish is granted. Only it's granted in a way she really didn't expect. She finds herself in Civil War-era Brooklyn, a very different place from the Brooklyn she knows. Because she is black and seemingly homeless, everyone assumes she is a runaway slave. She runs the risk of being sold to slave catchers and struggles to understand the very different society that exists in her new reality. Although the Emancipation Proclamation has declared slaves free in Confederate-controlled areas, and even though she is living in the "free" north, African Americans are still treated by whites as people of inferior intelligence and given little respect. The historical detail and attitudes portrayed are remarkable and I think pretty accurate. The climax of the book takes place during the
New York Draft Riots of 1863
, during which at least 120 people were killed and thousands were wounded--a fascinating time period and place for a book to be set in.
I admit I have a soft spot for time-travel tales. I found the beginning to be a bit slow; there was a lot of background and build-up to get through before Genna made her jump into the past. Her present was kind of depressing, but it was a nice change to read a story with a different setting than I am used to--I don't think I've ever read a book set in the inner-city. It was eye-opening for me to experience Genna's life and feelings through this book--her experiences as an African American teen are definitely far from my own experiences. I really feel like it opened a door to a world (in both time periods) that I know very little about but am glad to have a glimpse into. The conclusion of the story felt a bit open-ended, and there is some great sequel potential there (especially since we don't know what happened to Judah!). Ms. Elliott is working on the sequel,
Judah's Tale
right now, and I think it would be interesting to get back into the worlds of these characters.
Ms. Elliott self-published this book in 2008 and Amazon chose it to reprint under their AmazonEncore label earlier this year, which identifies "exceptional, overlooked books and authors with more potential than their sales may indicate" and partners with the authors to "re-introduce their books to readers through marketing support and distribution into multiple channels and formats" (
link
). I think they made a very good choice with
A Wish After Midnight.
I am so glad I read it.
Related linkage:
Reading Challenges: POC Reading Challenge, Historical Fiction Challenge, Speculative Fiction Challenge, Twenty Ten Challenge