I'm not sure exactly what it is that makes this cover particularly appealing to me, but when I saw it, I really liked it. Maybe because it's different than the usual cover? It's nice to see art on a cover rather than photos all of the time. I saw this one at
Kittling: Books
.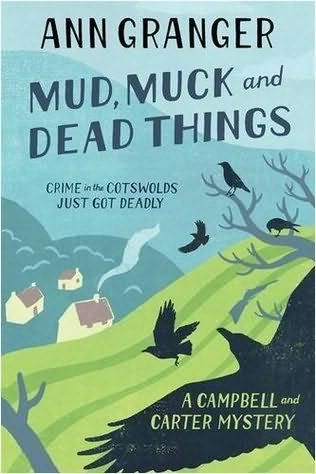 Mud, Muck and Dead Things
by
Ann Granger
Genre: Mystery
Publisher: Headline Book Publishing
ISBN: 9780755349241
Release Date: December 2009
Book description (from
Amazon.com
):
The first Campbell and Carter mystery from one of the nation's best-loved crime writers Lucas Burton hates the countryside. To him it's nothing but mud, muck and dead things. And he's right. When he turns up at a deserted farm in the middle of nowhere hoping to conduct a business deal he stumbles across the body of a girl. And that's just the start of his bad luck: Penny Gower from the local stables has spotted his silver Mercedes leaving the scene of the crime. Suddenly, for Lucas, things are looking very bleak indeed...Inspector Jess Campbell is on the case, but with few leads and a new superintendent, Ian Carter, breathing down her neck, she's beginning to feel the pressure. Then another dead body is found...
Eye Candy is a feature that was inspired by Marcia's
Cover Attraction
posts at
The Printed Page
and Daphne's
Cover Slut
posts at
Tanzanite's Shelf and Stuff
.