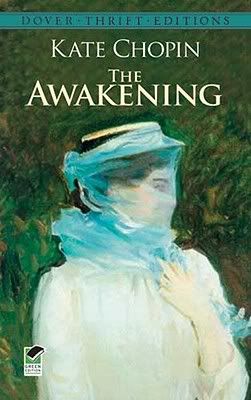 The Awakening
by
Kate Chopin
Genre:
Literary Fiction, Classic
Pages:
116
Date Published:
1899 (I read a 1993 reprint edition)
Publisher:
Dover Publications
Source:
BookMooch
Rating:
3 of 5 stars
Back of the book blurb:
When first published in 1899, The Awakening shocked readers with its honest treatment of female marital infidelity. Audiences accustomed to the pieties of late Victorian romantic fiction were taken aback by Chopin's daring portrayal of a woman trapped in a stifling marriage, who seeks and finds passionate physical love outside the straitened confines of her domestic situation.

Aside from its unusually frank treatment of a then-controversial subject, the novel is widely admired today for its literary qualities. Edmund Wilson characterized it as a work "quite uninhibited and beautifully written, which anticipates D.H. Lawrence in its treatment of infidelity."

Although the theme of marital infidelity no longer shocks, few novels have plumbed the psychology of a woman involved in an illicit relationship with the perception, artistry, and honesty that Kate Chopin brought to The Awakening. Newly available in this inexpensive edition, it offers a powerful and provocative reading experience to modern readers.
❦❦❦❦❦❦❦❦
What I've noticed in perusing reviews of Kate Chopin's
The Awakening
on
Goodreads
is that most reviewers either love or hate it. Although I'm not in the camp of those who loved the book, I didn't hate it either. Mostly I was left with mixed feelings about it, and my rating of the book reflects those feelings.
The "awakening" referred to in the title is the main character's awakening to "her position in the universe as a human being, and to recognize her relations as an individual to the world within and about her" (13). Her experiences while on vacation at Grand Isle (Louisiana) make her feel more free to acknowledge emotions she had previously repressed. She comes to realize that she doesn't love her husband, she doesn't like being a mother and housewife, and she has fallen in love with a young man she befriended while on vacation. Her awakening brings her to make new choices in her life, to break free of her old lifestyle, and to try to live a new and independent one.
What I liked about the novel was that I could identify with some of Edna's internal struggles. She doesn't particularly enjoy doing the traditional wife/mother duties. As the narrator explains:
She was fond of her children in an uneven, impulsive way. She would sometimes gather them passionately to her heart; she would sometimes forget them. The year before they had spent part of the summer with their grandmother Pontellier in Iberville. Feeling secure regarding their happiness and welfare, she did not miss them except with an occasional intense longing. Their absence was a sort of relief, though she did not admit this, even to herself. It seemed to free her of a responsibility which she had blindly assumed and for which Fate had not fitted her. (18)
In a way, I could relate with this (and I hope I'm not the only mom in the world who feels this way on occasion!). When my kids go stay with grandma for a few days, it is often a relief and a chance to recharge, but I start to miss them after a few days and am very happy when they come home.
On the other hand, Edna went a bit further than I would be comfortable with. She became so focused on herself that she seemed to neglect her children and didn't consider the consequences of her choices. The direction she was going in--moving into a smaller house, dropping her social responsibilities, spending time with single men, etc.--left me wondering what would happen when her husband and children came back home from their travels. How would they react and what would she tell them? Did she really intend to stay apart from them? Would her husband try to bully her into returning, or would he allow her to go? Ultimately, these questions go unanswered.
And while I could sympathize with her desire to be happy and to do the things that made her happy, I felt like she focused too much on finding happiness through other people, rather than finding ways to be happy with herself. That part bothered me--she was so focused on Robert (the young man she had fallen in love with) that she seemed like she couldn't be happy without him. I found myself wishing that Edna could have done something more constructive and sustainable with her awakening, though I know for her time period she wouldn't have had many choices. It was all kind of depressing and sad in the end because she knew what she wanted but felt misunderstood and overwhelmed.
I can see why this would be a book that was very controversial at the time of its printing (1899) and is now considered a feminist classic. Because of the main character's final choices, however, it isn't as valuable to
me
beyond showing how difficult it was for women to be themselves and make their own way at the end of the nineteenth century. The writing in this novel is beautiful in places and that made me enjoy it more than I enjoyed the characters. Here is an example:
The people walked in little groups toward the beach. They talked and laughed; some of them sang. There was a band playing down at Klein's hotel, and the strains reached them faintly, tempered by the distance. There were strange, rare odors abroad--a tangle of the sea smell and of weeds and damp, new-plowed earth, mingled with the heavy perfume of a field of white blossoms somewhere near. But the night sat lightly upon the sea and the land. There was no weight of darkness; there were no shadows. The white light of the moon had fallen upon the world like the mystery and softness of sleep. (27)
In the end, I'm glad I read it, but it's just not one for my keeper shelf.
Related linkage:
Reading Challenges: Twenty Ten Challenge