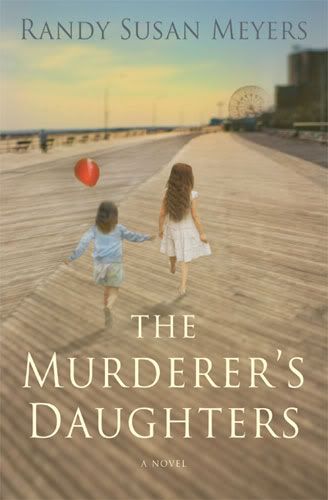 The Murderer's Daughters
by
Randy Susan Meyers
Genre:
Contemporary Fiction
Pages:
320
Date Published:
January 2010
Publisher:
St. Martin's Press
Rating:
4 of 5 stars
Book description
(
from the publisher
):
Lulu and Merry's childhood was never ideal, but on the day before Lulu's tenth birthday their father propels them into a nightmare. He's always hungered for the love of the girls' self-obsessed mother; after she throws him out, their troubles turn deadly. Lulu had been warned not let her father in, but when he shows up drunk, he's impossible to ignore. He bullies his way past Lulu, who then listens in horror as her parents struggle. She runs for help, but discovers upon her return that he's murdered her mother, stabbed her five-year-old sister, Merry, and tried, unsuccessfully, to kill himself.
Lulu and Merry are effectively orphaned by their mother's death and father's imprisonment. The girls' relatives refuse to care for them and abandon them to a terrifying group home. Even as they plot to be taken in by a well-to-do family, they come to learn they'll never really belong anywhere or to anyone—that all they have to hold onto is each other.
For thirty years, the sisters try to make sense of what happened. Their imprisoned father is a specter in both their lives, shadowing every choice they make. One spends her life pretending he's dead, while the other feels compelled--by fear, by duty--to keep him close. Both dread the day his attempts to win parole may meet with success.
This book takes on issues that I would consider "ripped from the headlines." While disturbing, it is not altogether shocking to hear stories on the news about domestic abuse situations that result in the death of one or both parents and children left orphaned. This novel tackles this very subject and follows the lives of two girls who have no one to take care of them after the murder of their mother by their father. The incident casts a shadow on every aspect of their lives, and the book explores the emotional carnage that each girl faces and the baggage they must carry as the "murderer's daughters."
This book is immensely readable, grabbing my attention from the very first chapter. The girls are young when their father commits the murder, and as a mother I was drawn to them and wanted to know what would happen to them. Unfortunately, their aunt (mother's sister) only sees their father in them and their grandmothers are too elderly to be able to take them in, so they are taken to a group home, where they spend their formative years. Each girl is affected differently by the murder. Lulu is the oldest, and harbors a lot of anger towards her father, refusing to see him and refusing to talk much about the incident. Merry, the youngest, was actually seriously injured by her father in the attack, yet she visited her father and kept in touch during his incarceration. It isn't until the reality of their father's parole that they really begin to deal with their feelings, fears, and anger in a useful way.
This was a very thought-provoking story that I quite enjoyed. I don't read a lot of contemporary fiction, but the book summary really called out to me and I'm glad I signed on to read it. The character development was well-done and realistic, and even though I wish the characters would have made different decisions sometimes, I still liked them and wanted them to have a happy ending after such a dismal childhood.
Definitely not a light-hearted read, but a worthwhile one. It reminded the that of all of the victims of domestic violence, the children most deserve our sympathy and support--not just in their childhood but in the years to come as they deal with the emotional scars that are left behind. This would be a great book club choice--there is a
discussion guide available online
to help stimulate discussion.
About the author (from TLC Book Tours):
The dark drama of Randy Susan Meyers' debut novel is informed by her years of work with batterers, domestic violence victims, and at-risk youth impacted by family violence.
In Brooklyn, where Randy was born and raised, her local library was close enough to visit daily and she walked there from the time she figured out the route. In many ways, she was raised by books, each adding to her sense of who she could be in this world. Some marked her for horror. Reading In Cold Blood at too tender an age assured that she'd never stay alone in a country house. Others, like Heidi by Johanna Spyri, made her worship her grandfather even more.
Some taught her faith in the future. A Tree Grows In Brooklyn by Betty Smith was the only bible Randy ever owned, her personal talisman of hopefulness. Each time she read it, she was struck anew by how this author knew so much and dared to write it.
Randy now lives in Boston with her husband and is the mother of two grown daughters. She teaches writing seminars at the Grub Street Writers' Center in Boston.
Randy Susan Meyers's
The Murderer's Daughters
Book Tour officially began on July 13 and will end on August 5. You can visit the book's blog stops at the
TLC Book Tours page
to find out more about this great book and talented author.
To purchase the book, visit
The Book Depository
or an
independent bookseller
of your choice.
Source
: Thank you to
TLC Book Tours
for including me as a part of this tour and to the publisher for providing me with a review copy of the book.
Related Linkage: