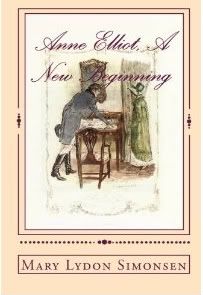 Anne Elliot, A New Beginning
by Mary Lydon Simonsen
Genre:
Historical Fiction
Pages:
230
Date Published:
May 2010
Publisher:
Quail Creek Publishing
Source:
I won a copy in a giveaway at the
author's blog
.
Rating
: 4 of 5 stars
Book description
(back of the book blurb):
On Anne Elliot's 25th birthday, her family has declared her to be a spinster, but instead of being downcast by this change in status, she finds it liberating. As a result of her new-found freedom, Anne becomes a long-distance runner, and this activity greatly increases her confidence and self-worth. It is this new Anne who Captain Frederick Wentworth meets when he sees the love of his life after eight years of forced separation. The Captain admires the changes in Anne, and he finds that he is falling in love with her all over again.
However, there is a complication. William Elliot, the heir to Kellynch, the Elliot estate, has also come back into the picture after being estranged from Anne's father, Sir Walter Elliot, Baronet, and he has set his sights on Anne. Now living in Bath, Anne senses that something is not right, and with the help of a street urchin named Swoosh, she sets out to discover William Elliot's true nature.
◊◊◊◊◊◊
This novel is essentially a humorous re-imagining of Jane Austen's
Persuasion
. In this version, instead of pining and wasting away after rejecting Wentworth, Anne Elliot finds a way to work through her feelings. Since her father and sister are too self-focused to even notice, she becomes a long distance runner. Her accomplishments (along with the emotional high that comes from exercise) change her into a more confident woman who is much less timid and more likely to stand up for herself and speak her mind.
You really must approach this novel keeping in mind that it isn't a serious re-telling of the story, but one full of humor. Modern slang encroaches on the language, and I think the characters take on a more modern flavor overall. Anne's sister Mary, for example, is inspired by Anne's changes and becomes less of a whiny hypochondriac and dedicates herself to nursing and helping other people. There are also some comments made of an intimate nature about a man's most "temperamental member." It could be a bit racy for some people, but is much tamer than your typical romance novel. And Ms. Simonsen makes sure that where she has stretched the historical record, she explains it in a section called "Correcting the Record."
There were countless moments that made me chuckle in this book. Here is an example, in which Henrietta Musgrove talks to Anne about her love interest, Mr. Hayter.
"I have always liked Mr. Hayter very much," Henrietta told Anne after pulling her into a corner away from the crowd. "He's been most kind and attentive to me, and I feel very comfortable in his company. The only thing I don't like is that my married name will be Henrietta Hayter. It sounds self-loathing. But Mr. Hayter told me in confidence that when he inherits Winthrop, he will take the name of the estate. He agrees that Hayter is not the best name, especially for a curate." (106)
I also enjoyed that the book's timeline went further than
Persuasion
. The author gives the reader a view of Anne and Wentworth's life after they got married. It was all the more interesting when Wentworth got shipped off to war and they had to be apart yet again.
Persuasion
is my favorite Jane Austen novel, I think largely because I felt a kinship with the timid Anne. Despite my feelings for the original, I thought this was a fun retelling. To imagine Anne as an assertive and self-assured heroine was an amusing departure and definitely worth my time. This was a great summer read. I already have another of the author's books,
Searching for Pemberley
on my TBR and am looking forward to reading it.
Related linkage:
Reading Challenges: Everything Austen II