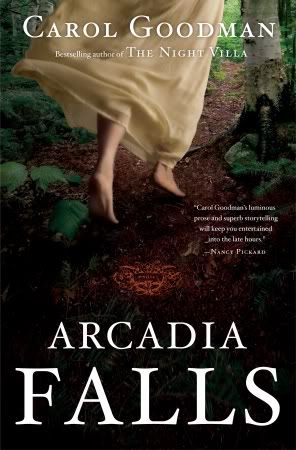 Arcadia Falls
by
Carol Goodman
Genre:
Literary Fiction, Mystery
Pages:
368
Date of Publication:
March 2010
Publisher:
Ballantine Books
Source:
Crazy Book Tours
Rating:
4.5 of 5 stars
Book description
(from the
publisher
):
There once was a girl who liked to pretend she was lost. . . .
Meg Rosenthal is driving toward the next chapter in her life. Winding along a wooded roadway, her car moves through a dense forest setting not unlike one in the bedtime stories Meg used to read to her daughter, Sally. But the girl riding beside Meg is a teenager now, and has exchanged the land of make-believe for an iPod and some personal space. Too much space, it seems, as the chasm between them has grown since the sudden, unexpected death of Meg's husband.
Dire financial straits and a desire for a fresh start take Meg and Sally from a comfortable life on Long Island to a tucked-away hamlet in upstate New York: Arcadia Falls, where Meg has accepted a teaching position at a boarding school. The creaky, neglected cottage Meg and Sally are to call home feels like an ill portent of things to come, but Meg is determined to make the best of it—and to make a good impression on the school's dean, the diminutive, elegant Ivy St. Clare.
St. Claire, however, is distracted by a shocking crisis: During Arcadia's First Night bonfire, one of Meg's folklore students, Isabel Cheney, plunges to her death in a campus gorge. Sheriff Callum Reade finds Isabel's death suspicious, but then, he is a man with secrets and a dark past himself.
Meg is unnerved by Reade's interest in the girl's death, and as long-buried secrets emerge, she must face down her own demons and the danger threatening to envelop Sally. As the past clings tight to the present, the shadows, as if in a terrifying fairy tale, grow longer and deadlier.
In Arcadia Falls, award-winning author Carol Goodman deftly weaves a mesmerizing narrative of passion: for revenge, for art, for love.
◊◊◊◊◊◊
After the death of her husband, Meg Rosenthal and her daughter Sally are forced to start over in Arcadia Falls, a small town in upstate New York. Meg takes a job as an English teacher at the local boarding school, a location that provides a double benefit: free housing and access to primary source material for her Ph.D. dissertation on the literary and artistic works of the school's founders.
Arcadia Falls
turns out to be a story-within-a-story. When Meg discovers a long-lost journal, she begins to uncover a series of long-buried secrets and unwinds a mystery almost as old as the school itself. She begins to really understand the meaning behind the story she has been researching,
The Changeling Girl
, and comes to a more complete understanding of the women she has been studying. I have to say, as a historian, this kind of story was enthralling--to find a journal that reveals secrets and gives new insight to a historical figure long after her death, well, it's just an exciting premise.
The novel is highly suspenseful. As Meg unfurls the mysteries of the past, she is also forced to face how these past events could be connected to the death of a student during the First Night celebration. I was enthralled by every sentence, and shocked by each twist and turn in the story. I must admit, though, that there were almost
too
many twists in the story--by the end it was starting to become almost unbelievable because of all of the twists. Despite this, I found the majority of the book riveting and enjoyable.
A big part of the storyline has to do with the relationship between mothers and daughters. Meg and Sally have a difficult relationship--I think typical of the relationship that many teenagers and their mothers have, but made more difficult by the death of Sally's father. A common theme throughout the book is whether a woman can be a mother and still pursue her own ambitions. Over and over it seems that the women in the book can do only one or the other, but not both. As Meg comments to herself, "It seems to me right now its the curse of all mothers and daughters. We sacrifice to give them what we didn't have, but all we've done is to show them that's all a woman can do: sacrifice herself or sacrifice her child" (pg. 231,
ARC version
). Ultimately, however, I think Meg comes to realize that she can do both, though it requires a lot of work and compromise. I enjoyed watching Meg and Sally's relationship begin to heal as they worked through the pain left behind by Sally's father's death.
This was a riveting and wonderful read. It had so many good things going on for me--the mystery and suspense, a riveting story-within-the-story, the unveiling of hidden secrets, unanticipated twists, and a bit of a gothic flavor were all ingredients for an unputdownable book. Highly recommended.
Related linkage: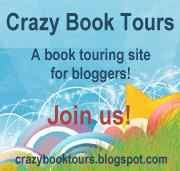 Reading Challenges: Thriller & Suspense Reading Challenge