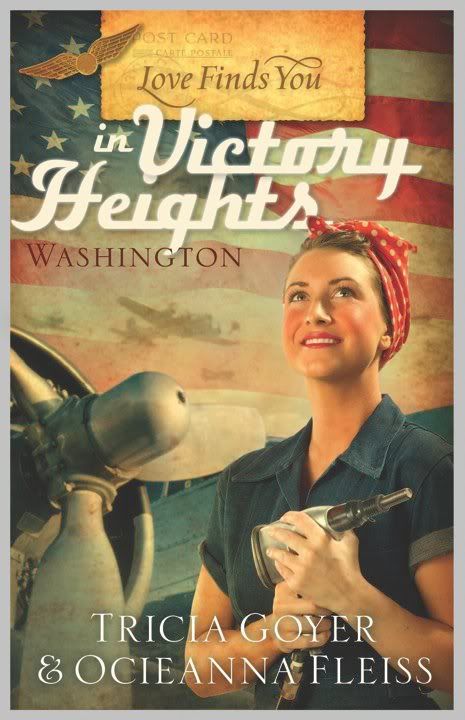 Love Finds You In Victory Heights, Washington
by
Tricia Goyer
&
Ocieanna Fleiss
Genre:
Christian Historical Fiction, Romance
Pages:
346
Date Published:
July 2010
Publisher:
Summerside Press
Rating:
4 of 5 stars
Source:
I received a copy of this book as part of a
Litfuse
blog tour in which I was given a copy of the book in exchange for a review on my blog.
Book description
(back of the book blurb):
The Second World War has stolen Rosalie's fiancé from her. But rather than wallow, Rosalie throws herself into her work at the local Boeing plant, shooting rivets into the B-17 bombers that will destroy the enemy. A local reporter dubs her "Seattle's Own Rosie the Riveter," and her story lends inspiration to women across the country. While Rosalie's strong arms can bear the weight of this new responsibility, her heart cannot handle the intense feelings that begin to surface for Kenny, the handsome reporter. Fear of a second heartbreak is a powerful opponent...but will it claim victory over love?
◊◊◊◊◊◊
I have been
drooling over this book ever since I saw the cover
--it's so Rosie-esque and wonderful. I will admit that, along with seeing who the authors were, the cover was one of the reasons I really wanted to read this one. You see, my grandmother worked in a Boeing plant during the Korean War, as a riveter. I feel a special pull to read stories like this because it makes me feel closer to her. And I adore reading books about the women who worked so hard for the war effort on the homefront.
So, one of my favorite things about this book was the setting. It's an exciting but nervous time in Seattle, where the war is at the front of everyone's minds. Rosalie has suffered the loss of her best friend and fiancé (though she wasn't really sure that he was the
one
) but throws herself into her work at the Boeing factory as a riveter of B-17 bombers. Everything feels pretty authentic to the period--the slang, the fears, the attitudes, the housing problems, etc.--and I really enjoyed feeling like I was being immersed in the time period.
Rosalie is a fairly complex character who could be infuriating at times. She is a strong woman who wants to do what is right, but she is greatly hindered by her fear of being the center of attention and animosity toward newspapermen. It doesn't help poor Kenny that Rosalie's father was a newspaper reporter who cared more about the story than about his family. What finally helps her get through these hindrances are her friends and her fledgling faith. Although I could definitely sympathize with Rosalie's shyness, it started to seem a bit much after a while. I found myself liking many of the other characters more because she seemed kind of wishy-washy at times. She would be outspoken at one moment, and the next she'd gloss over her concerns. I kept wishing she would just sit down and explain herself rather than make Kenny try and guess the problem or hear about it from someone else. My favorite characters were Kenny's dad and Aunt Tilly, two secondary characters but they were two of the most important supports for both Rosalie and Kenny throughout the story.
I enjoyed the way the romance in this book developed, as Rosalie came to realize that she liked Kenny and wanted to spend more time with him. It was also lovely to see her faith develop at the same time. I felt a little like there were a couple of loose ends at the end--I ended up wondering how certain relationships would be mended after an unflattering and embarrassing article near the end of the story, but those relationships were a secondary part of the storyline. Ultimately, however, this was a lovely romance in a great setting that really kept me turning the pages. If this is any indication of how great the
Summerside Press Love Finds You
line is, I'm really looking forward to reading more! I'm also highly tempted to go pick up a copy of the other book these authors have collaborated on:
Love Finds You in Lonesome Prairie, Montana.
ABOUT THE AUTHORS:

Tricia Goyer is the author of twenty-four books including Songbird Under a German Moon, The Swiss Courier, and the mommy memoir, Blue Like Play Dough. She won Historical Novel of the Year in 2005 and 2006 from ACFW, and was honored with the Writer of the Year award from Mt. Hermon Writer's Conference in 2003. Tricia's book Life Interrupted was a finalist for the Gold Medallion in 2005. In addition to her novels, Tricia writes non-fiction books and magazine articles for publications like MomSense and Thriving Family. Tricia is a regular speaker at conventions and conferences, and has been a workshop presenter at the MOPS (Mothers of Preschoolers) International Conventions. She and her family make their home in Little Rock, Arkansas where they are part of the ministry of FamilyLife. For more on Tricia visit www.triciagoyer.com




Ocieanna Fleiss is a published writer and has edited six of Tricia Goyer's historical novels. She lives with her husband and their four children in the Seattle area. For more about Ocieanna visit her blog.
Related linkage:
Reading Challenges: Christian Historical Fiction Challenge.