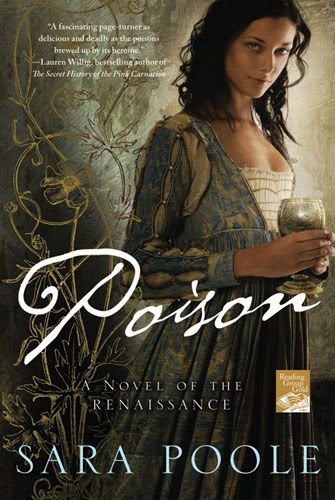 Poison
by
Sara Poole
Genre:
Historical Fiction, Mystery
Pages:
416
Date Published:
August 3, 2010
Publisher:
St. Martin's Griffin
Source:
I won an Advance Readers' Edition in a
GoodReads
giveaway
.
Rating:
4 of 5 stars
Book description (from the publisher):
In the simmering hot summer of 1492, a monstrous evil is stirring within the Eternal City of Rome. The brutal murder of an alchemist sets off a desperate race to uncover the plot that threatens to extinguish the light of the Renaissance and plunge Europe back into medieval darkness.
Determined to avenge the killing of her father, Francesca Giordano defies all convention to claim for herself the position of poisoner serving Cardinal Rodrigo Borgia, head of the most notorious and dangerous family in Italy. She becomes the confidante of Lucrezia Borgia and the lover of Cesare Borgia. At the same time, she is drawn to the young renegade monk who yearns to save her life and her soul.
Navigating a web of treachery and deceit, Francesca pursues her father's killer from the depths of Rome's Jewish ghetto to the heights of the Vatican itself. In so doing, she sets the stage for the ultimate confrontation with ancient forces that will seek to use her darkest desires to achieve their own catastrophic ends.
❦❦❦❦❦❦❦
Wow, besides providing a fascinating look at Renaissance Italy, this was one thriller of a book! After the death of her father, Francesca Giordano takes up his profession as poisoner for Cardinal Rodrigo Borgia. In doing so, she sheds the normal bounds of her sex, risking being labeled a witch and worse, to try to discover her father's killer and avenge his death. She isn't entirely prepared for the morass of political intrigue and religious posturing that she steps into. Although she is known as the Cardinal's poisoner, her employment largely focuses on making sure that the Cardinal and his family are not poisoned by his enemies. But she also finds herself getting involved in the conspiracy that resulted in her father's death, a conspiracy that threatens her life as well.
I haven't read a lot on this time period and place--Renaissance Italy is a fabulous setting and I found myself hungry to learn more about it. As a work of historical fiction, it is based on historical events--the author points out in her note at the end that Francesca is fictional but that "much of
Poison
is based on real people and the events they took part in during the summer of 1492" (390). I was surprised to learn that Pope Innocent VIII was rumored to have ingested the blood of young boys to prolong his life, and the whole story of Rodrigo Borgia was interesting to no end. I found myself looking up more information about the man who became Pope Alexander VI. The whole idea that a man who was supposed to be celibate but had four children and more than one mistress, but was still able to become Pope seems so scandalous and interesting.
As you might expect, I enjoyed the characters in the book. Francesca is a strong female figure and even though she didn't always make the best decisions, she usually had good intentions. She struggled with the darkness in her heart that being a poisoner brought--she killed more than one man in her profession and always had an almost overwhelming amount of responsibility on her shoulders. I also thought it was interesting that the Borgias were portrayed in a more even-handed way than they could have been--Francesca notes several times that they aren't as outrageously sensuous and wicked as they would be portrayed later.
This was an exciting book, with a strong element of suspense on every page, and is definitely a story worth reading. I highly recommend it to historical fiction fans, and am glad to know that this is the first book in the planned Poisoner Mysteries. I am looking forward to the next installment,
The Borgia Betrayal
!
Related Linkage:
Reading Challenges: Thriller & Suspense Reading Challenge