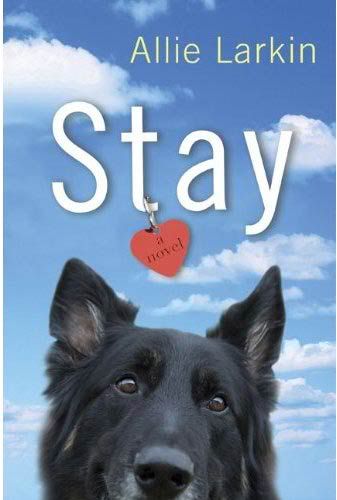 Stay
by
Allie Larkin
Genre:
Contemporary Fiction
Pages:
312
Date of Publication:
June 2010
Publisher:
Dutton
Source:
Crazy Book Tours
Rating:
5 of 5 stars
Book description
(from the
author's website
):
Savannah "Van" Leone has loved Peter since the day they met. The problem is, Peter has loved Van's best friend, Janie, since the moment they met. And now they're walking down the aisle, with Van standing nearby in a Halloween orange bridesmaid dress, her smile as hollow as a jack-o-lantern. After the wedding, Van drowns her sorrows in Kool Aid-vodka cocktails and reruns of Rin-Tin-Tin, and does what any woman in her situation would do: She buys a German Shepherd over the internet.

The pocket-sized puppy Van is expecting turns out to be a clumsy, hundred-pound beast that only responds to Slovakian. Van is at the end of her rope—until she realizes that this quirky giant may be the only living being who will always be loyal to her, no matter what. And thus begins a friendship that will alter Van's life in ways she never imagined.

Joe leads Van to Dr. Alex Brandt, a rugged vet with floppy blond hair and winning smile. But just as things are starting to heat up, the newlyweds return from their honeymoon, forcing Van to decide just how much she's willing to sacrifice in order to have everything she ever wanted. Warm and witty, poignant and funny, Stay marks the arrival of an irresistible new voice.
◊◊◊◊◊◊
I am so totally hitting the jackpot in fun reads this summer. I just finished
Stay
by Allie Larkin and the first thing I want to say is READ IT. If you enjoy witty, laugh-out-loud funny books that touch on the themes of love, loss, friendship, healing, and finding your place in life (and aren't offended by a bit of profanity and an instance of premarital sex) go out and buy this book today. I read half of this book on a long car trip last week (no, I wasn't driving LOL!) and hubby kept shooting strange looks at me because I kept cracking up laughing.
After Van watches her two best friends get married, she realizes she literally has no other friends in the world. In a drunken stupor, while watching
Rin-Tin-Tin
reruns, she decides to purchase a German Shepherd puppy over the internet. A very expensive, well-trained German Shepherd puppy, who arrives much larger than she expects, and who she names Joe. She's never owned a pet before, and her adventures are hilarious and bring her into contact with new people. Her personal life begins to broaden as a result of having Joe in her life. She makes a few major mistakes in the process, but eventually she begins to find her place in life where she is comfortable with herself and with the people around her. It's almost a coming-of-age story in which she broadens her horizons further than she has since her mother's death.
The characters were interesting and authentic. Van had a bit of a drinking problem, but she seemed to be getting it (and her life) under control by the end of the story. I loved that she worked from home over the internet (something we have in common!) and that her dog was a German Shepherd (my Trixie is half German Shepherd!). She did have some blind spots, especially with her two best friends, but it was lovely to watch them work through those issues together. It was also moving to see her work through her grief over her mother's death. The book tackled some really tough topics, but still managed to be light and funny at the same time.
This is Ms. Larkin's first book and I really can't wait to read her next one.
Stay
is wonderfully funny, full of heart, and features one of the most adorable hundred-pound dogs you can imagine. It makes me want a Joe of my very own. :-)
Related linkage: