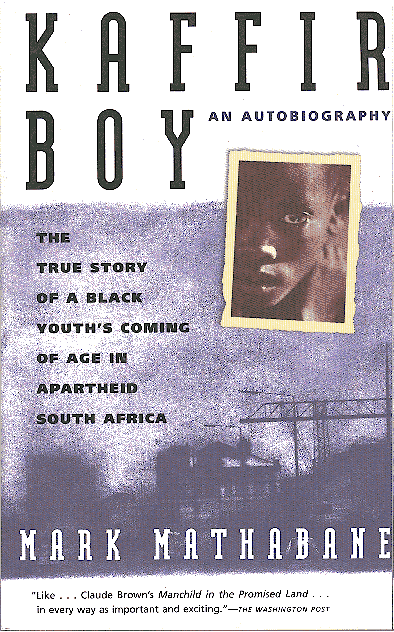 Kaffir Boy
by
Mark Mathabane
Genre:
Autobiography
Pages:
368
Date Published:
1986
Publisher:
Simon & Schuster
Source:
Personally purchased
Rating:
5 of 5 stars
Book description (from publisher):
The Classic Story of Life in Apartheid South Africa
Mark Mathabane was weaned on devastating poverty and schooled in the cruel streets of South Africa's most desperate ghetto, where bloody gang wars and midnight police raids were his rites of passage. Like every other child born in the hopelessness of apartheid, he learned to measure his life in days, not years. Yet Mark Mathabane, armed only with the courage of his family and a hard-won education, raised himself up from the squalor and humiliation to win a scholarship to an American university.
This extraordinary memoir of life under apartheid is a triumph of the human spirit over hatred and unspeakable degradation. For Mark Mathabane did what no physically and psychologically battered "Kaffir" from the rat-infested alleys of Alexandra was supposed to do -- he escaped to tell about it.
◊ ◊ ◊ ◊ ◊ ◊
I first read this book in college, when it was assigned reading for a History of Africa course I was taking. Before this book I had a very basic understanding of apartheid in South Africa, but I really had no concept of what it was like for blacks living in that system. Reading this book was seriously an eye-opening experience. First published in 1986 before apartheid was ended, it became a best seller in the US. I tend to see this book as similar to books like
Narrative of the Life of Frederick Douglass
, which has been considered an important slave narrative because it provided a look at the life of a slave from his own point of view--northerners who had not had first-hand exposure to slavery had their eyes opened by Douglass's memoir. I think this book probably served the same purpose at the time it was published--Americans' eyes were really opened to the horrors of life in apartheid South Africa. I know that's what it did for me.
Mathabane's family had to deal with so many regulations and rules, all while dealing with a corrupt political system and living in an Alexandria ghetto at the same time. Inability to pay the poll tax or tribal tax, or not having the money to bribe a policeman could result in being sentenced to hard labor. Unemployment resulted in his father being imprisoned for a year. His family had to scavenge for food at the garbage dump, and some young boys sold their bodies for food and money. Despite this reality, Mathabane excels in school, and then becomes a skilled tennis player, which provides him with a way out of South Africa. But having these talents and a scholarship offer from an American college doesn't make it easy for him to leave. The government seems so corrupt in its slow-moving process of granting him a passport, though his supporters were able to grease enough palms to get him to America in time for the first day of school.
This book was awe-inspiring. Mathabane was up against unimaginable odds in his quest to break free from South Africa. But even as he said farewell to his country and family, he still felt he would never break away from his culture or his country. "Deep within me, I knew that I could never really leave South Africa or Alexandra. I was Alexandra, I was South Africa" (348).
This book has been challenged and banned in several school districts for a very short scene that depicts child prostitution and planned sodomy. When I read the book for the first time, I was shocked by the scene, but it wasn't a scene that stood out to me from the rest of the book, and by no means was it titillating or did it glorify what was being depicted. It served to underline what the book had been repeating over and over--that life in the Alexandria ghetto and in apartheid South Africa was anything but a walk in the park. People were driven to desperate and horrifying measures to survive, and the scene portrays the terror and helplessness that young children must have felt in that place and time. I don't think the scene in question is ban-worthy, but it is worth considering a child's maturity level before having them dive into it. I don't think it would be too much for high schoolers, and I think the book overall provides wonderful discussion opportunities.
Kaffir Boy
deserves to become a classic for portraying life in apartheid South Africa in an authentic and eye-opening way. It is too important of a book to be tossed in the trash bin.
Related linkage:
Connect with the author at his website
Reading Challenges: POC Challenge