For today's BBAW event, I am honored to welcome Michelle from
my books. my life.
!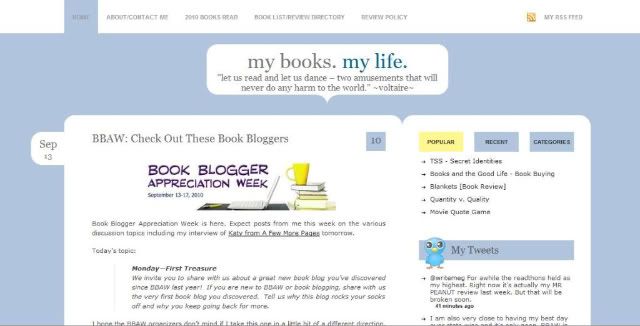 Please tell us a little bit about yourself!
I am a 27-year-old attorney currently living in Florida. I grew up in Michigan but much prefer the weather here. I've been a reader my whole life. In addition to reading, I spend my time taking ballet and yoga classes and watching way too much television. I live with my husband, our two cats (Gatsby and Daisy), and hundreds of books.
How long have you been blogging?
I've been blogging since March 2007 but I've only had my current blog since the fall of 2009. I think of that later date as the the day I officially became a book blogger.
What are your favorite book genres?
Contemporary Fiction; Literary Fiction; Young Adult (is that really a genre?); Dystopian; Paranormal; Classics. I think I have pretty eclectic taste in books.
Who are your favorite authors?
Jane Austen, Ernest Hemingway, PG Wodehouse, JK Rowling, Maud Hart Lovelace, Jasper Fforde, and Neil Gaiman - just to name a few.
Do you have some favorite books that you often find yourself recommending to people (if so, which ones)?
Yes. Some of the books I find myself recommending the most are The History of Love by Nicole Krauss, The Thursday Next series by Jasper Fforde, The Hunger Games series by Suzanne Collins, and lately it's been Finny by Justin Kramon.
Fabulous! I've got
The History of Love
and
The Eyre Affair
(the first book in The Thursday Next series) on my TBR pile right now!
What is your favorite bookstore? (online or brick & mortar)
Unfortunately there isn't a convenient indie near me so I'm stuck with Barnes and Noble and Borders if I want to go into a bookstore. When I order books online, I like to use The Book Depository because of the free shipping and the less-evil-than-Amazon vibe I get from it.
What is your favorite thing about being a book blogger?
The community. I've met so many amazing people through book blogging and I love that I get to talk about books with them every day. And Twitter. I love Twitter.
What is the hardest thing about being a book blogger?
Figuring out how to manage my time especially when my real life gets busy. I try not to put too much pressure on myself but I do find myself occasionally overwhelmed with reading, blogging, and blog reading.
I can absolutely relate! Do you have any advice for fledgling book bloggers?
Get out there and start interacting with other bloggers. Leave comments, participate in events like BBAW and the readathons, join twitter. It's a little scary to put yourself out there but I promise that everyone will be welcoming.
What are a few of your favorite book blogs?
This is tough question. There are so many great blogs out there. Some of the blogs I try to read regularly are Devourer of Books, That's What She Read, GalleySmith, and The Book Lady's Blog. But this is nowhere near an all-inclusive list of my favorites.
There really are a lot of wonderful blogs out there, and I'm so glad I have been reading yours! Thank you for being here Michelle! This was so much fun!
Now, since I know you all want to go check out Michelle's blog and connect with her on twitter, here are the links:
BBAW interview swap link-up
.