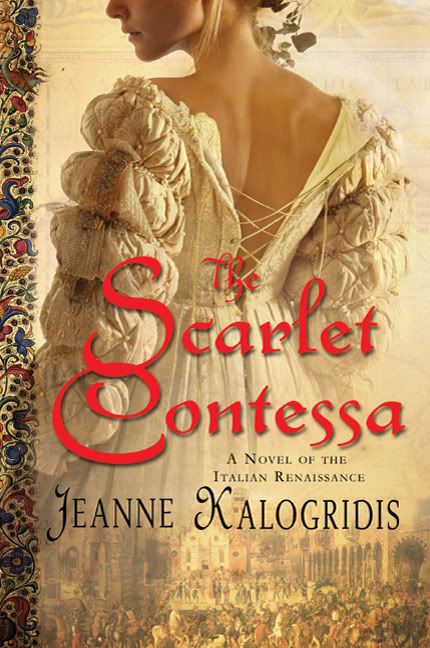 The Scarlet Contessa
by
Jeanne Kalogridis
Genre:
Historical Fiction, Romance
Pages:
464
Date Published:
July 2010
Publisher:
St. Martin's Press
Source:
Crazy Book Tours
Rating:
4 of 5 stars
Book description
(from the
publisher
):
Daughter of the Duke of Milan and wife of the conniving Count Girolamo Riario, Caterina Sforza was the bravest warrior Renaissance Italy ever knew. She ruled her own lands, fought her own battles, and openly took lovers whenever she pleased.

Her remarkable tale is told by her lady-in-waiting, Dea, a woman knowledgeable in reading the "triumph cards," the predecessor of modern-day Tarot. As Dea tries to unravel the truth about her husband's murder, Caterina single-handedly holds off invaders who would steal her title and lands. However, Dea's reading of the cards reveals that Caterina cannot withstand a third and final invader—none other than Cesare Borgia, son of the corrupt Pope Alexander VI, who has an old score to settle with Caterina. Trapped inside the Fortress at Ravaldino as Borgia's cannons pound the walls, Dea reviews Caterina's scandalous past and struggles to understand their joint destiny, while Caterina valiantly tries to fight off Borgia's unconquerable army.
◊ ◊ ◊ ◊ ◊ ◊
I was drawn to this book set in Renaissance Italy because of how much I enjoyed
Poison
by Sara Poole (
click here for my review
) last month. That book focused on the Borgia family, and in this book the Borgias are not main characters but play significant parts in the action (along with the De Medicis). While
Poison
was very suspenseful and it was clear that politics and religion were quite contentious at the time,
The Scarlet Contessa
portrays the politics and religious scandals with even more color. I walked away from this book surprised at the dangerous and unstable position of the ruling class in Italy during the Renaissance. Their existence, while lush and pampered, was by no means easy or safe.
The story is told from the point of view of Dea, a fictional adopted sister of Caterina Sforza. Their growing-up years are interesting since Dea has no memory of her mother and Caterina's father is a lecherous and powerful man. His actions toward young women are horrid, but his ability to sate his desires with few consequences kind of rubs off on Caterina. When she marries a man with whom she has little chemistry, she has few qualms about seeking out pleasure through affairs. So, there is a fair amount of sexual content in this book, and though it isn't the main purpose of this book it is a part of Catherine's character. For the most part the reader doesn't really get into Catherine's head because the story is told from Dea's point of view. Dea is tied to Catherine as her lady-in waiting and for much of the book Catherine refuses to let Dea leave her because she feels she is her talisman.
But to dwell on the sex and the relationship between the sisters is to gloss over the explosive political landscape that this all takes part in. Caterina married
Girolamo Riario
, who was officially the pope's nephew but was rumored to be his son. Caterina was unusual for her time in that she was not afraid to step up and protect her family's holdings when others sought to take them away. The turnover occurring within the Catholic Church with the election of each new Pope resulted in power struggles in the lands within Italy, and she wanted to make sure her family didn't lose their power. She also moved quickly to try to hold on to power after her husband was murdered. The steps she took to protect their holdings included taking up the sword to encourage her husband's soldiers, attempting to maintain control over Castel Sant'Angelo while seven months pregnant, and allegedly attempting to poison Pope Alexander VI. When I looked up some
general information on Caterina
, I found that this novel followed her life fairly closely (it does omit one of her marriages) and that Caterina was indeed an extremely interesting person for that time period or for any other time period.
Although I generally am not an avid reader of books with sexual content, once I got past it in this novel I thought it was fascinating and suspenseful. There was an element of mystery regarding Dea's "angel" and the future she had foreseen in the cards for herself and for Caterina. And since I am very lightly read on the topic of Italian history of any time period, I was highly intrigued by the politics and people of Renaissance Italy. It was all very scandalous and dangerous. Once again I am finding myself drawn to read more about Renaissance Italy.
The author includes a note at the end that explains that Dea was a fictional character but that most of the other characters were based on actual historical figures. I was disappointed that the author's note on the historical record was so short since I know so little about the time period myself. I would have liked to know more about where she fictionalized Caterina's life and where she stayed faithful to the historical record. But even with this complaint, I still found this book totally worth my time.
If you are a fan of historical fiction and are not bothered by books with sexual content, you should definitely give this book a try. Caterina Sforza was a woman whose life story was definitely worth being retold, and I think this fictionalization of her life was entertaining and riveting. The real-life Caterina Sforza is reported to have said, "If I were to write the story of my life, I would shock the world." I'll leave it to those with more knowledge of her life to decide whether this book was a fair characterization of her or not.
Related linkage: