Book Beginnings on Friday
is a meme hosted by
Becky at Page Turners
. Anyone can participate; just share the opening sentence of your current read, making sure that you include the title and author so others know what you're reading. If you like, share with everyone why you do, or do not, like the sentence.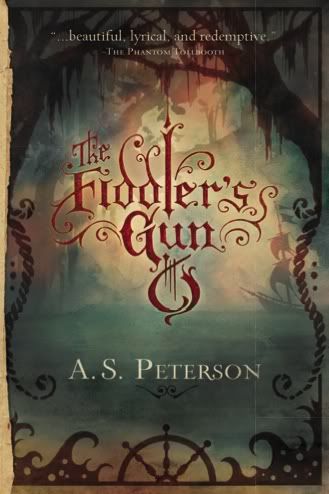 My current read is
The Fiddler's Gun
by A.S. Peterson (ISBN 9780615325422). Here is the first line from the prologue:
The trouble with Phineas Michael Button began the moment she was born.
Here were my first thoughts: SHE? That poor girl has a boy's name. LOL
The first line was intriguing--besides being given an unfortunate name, what other trouble did she face from birth?-- and the rest of the prologue didn't disappoint either. I've been longing to read this and I'm so excited that I am getting my chance. Special thanks to Ladybug at
Escape in a Book
for sending her copy on a
world tour
(I'm so excited to be a part of it!).