I haven't featured a children's book here in a while but I've really been meaning to because this one book has become a staple in my son's library. I found it at a yard sale, bought it on a whim without knowing if my kids would even like it, and my son adored it from the moment his grandfather first read it to him.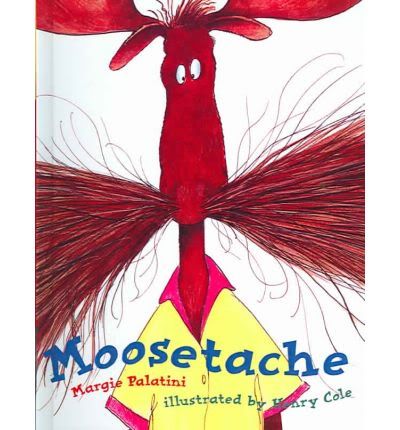 The book is
Moosetache
by
Margie Palatini
and illustrated by
Henry Cole
. Poor Moose has a moosetache that is truly out of control. He tries everything to tame it--braids, moosetail, moosescarf... but nothing seems to work. The moosetache either tickles him, strangles him, or trips him up. Until he meets the moose of his dreams, who tells him her secret to managing her towering 'do. The story is humorous, the language uses some amusing alliteration, and the illustrations are darling. My son can't get enough of it (he still laughs everytime that squirrels make a home in Moose's pile of moosetache) and we read it several times a week. The happy ending is quite entertaining too--the photo montage at the end is my daughter's favorite part. She likes to point to each picture and explain who it is. This is a wonderful and fun children's book--original and a bit absurd, but my kids are big fans. FYI, I noticed this book was available in the
October edition of Scholastic's See Saw Book Club
as part of a "Read and Laugh Pack" (
More Parts
by Tedd Arnold is part of the pack, and is also really funny), so if your Kindergartener or First grader brought home that order form from school, be sure to take a look!
Julie at Booking Mama hosts Kid Konnection every week. Check out her blog for more great kid's books.