You never get a second chance to make a first impression...
There's nothing quite like the anticipation that comes from cracking open a book for the first time. The first line beckons you, and if done well it can pull you headlong into the story. Done poorly, the first line can lead a reader to set a book aside and move on to something better, especially if they're browsing at the bookstore.
The best first lines are memorized and
celebrated
, and the worst ones are
lampooned
and
parodied
. So with the knowledge of just how important first lines are, is it any wonder that one of my favorite bookish memes focuses on the first line?
When Becky at
Page Turners
decided to reprioritize at her blog, she offered her
Book Beginnings on Friday
meme to anyone interested in adopting it. I jumped at the chance, and Becky chose A Few More Pages as the new home for Book Beginnings on Friday. I'm really excited to be hosting my first meme! I hope you'll join in!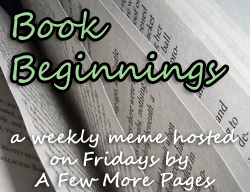 How to participate:
Share the first line (or two) of the book you are currently reading on your blog or in the comments. Include the title and the author so we know what you're reading. Then, if you would like, let us know what your first impressions were based on that first line, and let us know if you liked or did not like the sentence. The link-up will be at
A Few More Pages
every Friday and will be open for the entire week.
Thanks to
Becky at Page Turners
for starting this meme and to
Rose City Reader
for inspiring it!
I recently finished
The Healer's Apprentice
by Melanie Dickerson (ISBN: 9780310721437). Here's the first line:
The townspeople of Hagenheim craned their necks as they peered down the cobblestone street, hoping to catch a glimpse of the Duke of Hagenheim's two handsome sons.
I rather liked this first line. It's almost lighthearted, and even though this book takes place in 1386, it reminds me how so little has changed. How many times have we seen people standing outside of awards shows or theaters, craning their necks trying to catch a glimpse of a celebrity? I thought this was a good first line, and it set the stage for a really good book.
So, what is the first line of your current read, and how did you like it? Please leave the link to your specific post, not just to the front page of your blog.
---