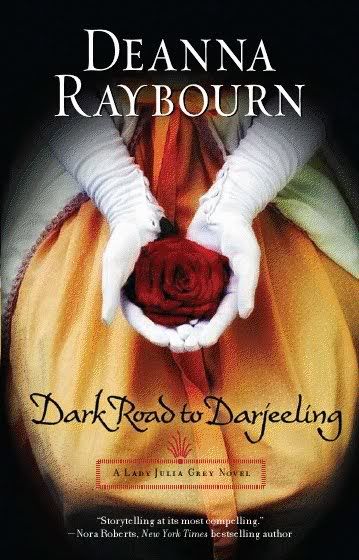 Dark Road to Darjeeling
by
Deanna Raybourn
(Book 4 in the Lady Julia Grey series)
Genre
: Historical Fiction, Mystery, Romance
Pages:
393
Date Published:
October 2010
Publisher:
MIRA books
Source
: I received an ARC for review from Erin at
Meryl L. Moss Media Relations, Inc
. Thank you Erin!
Rating
: 4 of 5 stars
Book Description
(from the
publisher
):
After eight idyllic months in the Mediterranean, Lady Julia Grey and her detective husband are ready to put their investigative talents to work once more. At the urging of Julia's eccentric family, they hurry to India to aid an old friend, the newly widowed Jane Cavendish. Living on the Cavendish tea plantation with the remnants of her husband's family, Jane is consumed with the impending birth of her child—and with discovering the truth about her husband's death. Was he murdered for his estate? And if he was, could Jane and her unborn child be next?
Amid the lush foothills of the Himalayas, dark deeds are buried and malicious thoughts flourish. The Brisbanes uncover secrets and scandal, illicit affairs and twisted legacies. In this remote and exotic place, exploration is perilous and discovery, deadly. The danger is palpable and, if they are not careful, Julia and Nicholas will not live to celebrate their first anniversary.
◊ ◊ ◊ ◊ ◊ ◊
If you haven't read this series and have a desire to, I must warn you that this review will have some unavoidable spoilers. But I'll try not to give too much away. ;)
Lady Julia Grey and Nicholas Brisbane have been traveling extensively for the past eight months on their honeymoon when Julia's family shows up and entices them to join an investigation. Julia's sister, Portia, is on her way to her former partner's side, accompanied by their brother Plum. Jane (who left Portia to marry and have children of her own) is newly widowed and pregnant in a foreign land. Questions over how her husband died (was it natural causes, or murder?) draw Julia and Brisbane into the expedition. Of course, what seems a simple investigation become complicated with the discovery of secrets and scandal throughout the valley where Jane is living.
Yet again, Julia and Brisbane butt heads over her involvement in the investigation and he tries to keep her in the dark. There is much tension over how she wants to be his partner in mystery, but he wants to protect her from the dangers. Portia gives Julia some good advice about her needing to back off a little and look at things from Brisbane's point of view--he's a professional and she is basically an amateur trying to force her way in. The point of view is understandable, but I still think Julia could be more useful if Brisbane would be less secretive. She's proven to be pretty good at uncovering secrets and drawing out unexpected confessions.
I was looking forward to how Julia's cousins (Lucy and Emma) would figure into the mystery (since we had learned at the end of
Silent in the Sanctuary
that they had settled in India), but that part of the story was quite different from what I expected. Questions are left unanswered about Emma, but we have definitely not seen the last of Lucy and the "White Rajah." Talk about an unexpected twist there! I absolutely didn't see the White Rajah's identity coming, or his nefarious dealings.
This was a great installment in the Lady Julia Grey series. The setting was wonderfully interesting, and the people involved were also unique and fascinating. I was very saddened by what happened to Jane, shocked at the twists with Robin and the Reverend, and I thought that overall the final ending was bittersweet as they set off to return to England with a new family member in tow.
I am very curious to see where Ms. Raybourn will take Julia and Brisbane next. Will they encounter the White Rajah and Lucy again? How will Julia's family react when they all return home from India? Will Julia and Brisbane ever settle into a comfortable partnership or will they forever bicker about it? Hopefully these questions and more will be explored in future books in the series. I'll be waiting enthusiastically to devour them!
Related linkage: