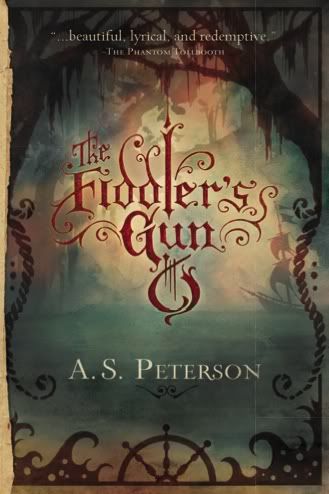 The Fiddler's Gun
by
A.S. Peterson
(Book One of Fin's Revolution)
Genre:
Historical Fiction
Pages:
293
Date Published:
December 2009
Publisher:
Rabbit Room Press
Source
: Ladybug at
Escape in a Book
is sending her copy on a
global tour
! Thanks for including me!
Rating:
5 of 5 stars
Book Description
(
from the author's website
)
:
Revolution. Secrets. An Unforgettable Adventure.
America is on the brink of war with England, and Fin Button is about to come undone. She's had it with the dull life of the orphanage, and she's ready to marry Peter and get away from rules, chores, and a life looked after by the ever-watchful Sister Hilde. But an unexpected friendship forms between Fin and the fiddle-playing cook, Bartimaeus, which sets her on a course for revolution.
With Bart's beloved fiddle and haunting blunderbuss as her only possessions, Fin discovers her first taste of freedom as a sailor aboard the Rattlesnake. She's hiding some dark secrets, but there are bigger problems for the crew—they are on the run from the Royal Navy, and whispers of mutiny are turning the captain into a tyrant.
When Fin finally returns home, will she find Peter still waiting, or will she find that she's lost everything she once held dear?
◊ ◊ ◊ ◊ ◊ ◊
The first word that came to mind when I finished this book was WOW. I cannot believe this is A.S. Peterson's first book. Other words that aptly describe this book: adventurous, violent, emotional, action-packed, moving, and thrilling. This book is set in the years leading up to and during the beginning of the American Revolution, so it is categorized as historical fiction. It's not based on a true story, but it's definitely some fabulous adventure fiction based in a historical setting, with inspiration pulled from a number of historical people, places, and events, including the
Georgia War Woman (Nancy Hart)
and
the first orphanage in colonial America
located in Ebenezer, Georgia (where the book begins).
If you've been following my blog, you're aware that I love books with strong heroines. Fin is another strong woman, but in a bit of an unusual way. Although her father abandoned her in an orphanage, she seemed to have absorbed his desire for a son and would rather wear boy's clothes and do men's work rather than wear dresses and darn socks. Her flight from the orphanage and adoption of a disguise as a young man on a ship was pretty easy.
The Fiddler's Gun
strikes me as a unique coming-of-age story. Fin may wish she were a boy, but once she gets out into the world and grabs ahold of her own destiny she begins to find that being herself is even better. She finds a happy medium in which she doesn't hide her gender, but continues working on the ship as a member of the crew. I think her connection with Bartimaeus was really important too, since he became a father figure to her that she had never had before. Bart was one of my favorite characters, and **spoiler alert** his death (and Fin's reaction to it) surprisingly brought me to tears. Tears from me are the sign of a really good book.
There were a couple of aspects of the story that I found a little hard to swallow, and the first has to do with how long her disguise as a young man on the ship lasted. I had a really hard time accepting that she could keep up her facade in such close quarters. Living on a ship with a bunch of men, sleeping in the same quarters, etc.--I just felt like they would have found her out a lot sooner than they did. She also escaped rape on a couple of occasions and wasn't threatened with rape as often as I would have expected. She was running with some pretty rough and raw characters who she made enemies with that I would have thought would have attacked her at some point, but didn't.
Fin would definitely meet my definition of "tomboy" and even though I couldn't quite understand Pete's attraction and devotion to her, their relationship was sweet. I read a review on Goodreads at one point that complained that Fin was selfish and unlikeable. But after everything she had been through, who could blame her for wanting to take her destiny into her own hands? She did act selfishly on several occasions, but she also seemed to act to protect others as well, and often at her own expense. She took actions to protect the orphanage and Peter on more than one occasion, and she left the orphanage to keep them safe and with the hope that she could one day return.
The book ends at a bit of a cliffhanger, and I am waiting oh-so-anxiously for the next book,
The Fiddler's Green
, which will be published in December of 2010. Guess what's going to be on my Christmas list? :) I highly recommend this book--it was just as good as I hoped it would be.
Related linkage:
Reading Challenges:
Twenty Ten Reading Challenge ("Bad Bloggers")