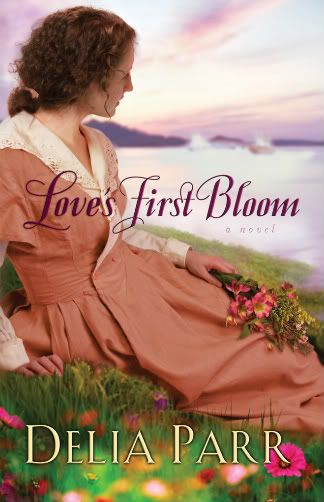 Love's First Bloom
by
Delia Parr
Genre:
Christian Historical Romance
Pages:
318
Date Published:
September 2010
Publisher:
Bethany House
Source:
I received a free copy through the
Bethany House Book Reviewers
program.
Rating:
5 of 5 stars!
Book Description (from the publisher):
Life changes drastically for Ruth Livingstone the day her father puts a young child in her arms and sends her under an assumed name to a small village in New Jersey. There she dutifully awaits his acquittal, certain that her father, Reverend Livingstone, soon will be cleared of the outrageous accusations against him.
When tragic events transpire, Ruth finds solace tending a garden along the banks of the Toms River—a place where she can find a measure of peace amid her growing heartache. It is also here that she meets Jake Spencer, a man who both frustrates and intrigues her. Fearful of the newspapermen intent on tracking her down and unsure of whom to trust, Ruth knows she must carefully maintain her identity as Widow Malloy. But as love begins to slowly bloom, can the tenuous affection growing between Ruth and Jake withstand the secrets that separate them?
◊ ◊ ◊ ◊ ◊ ◊
I read and reviewed my first Delia Parr novel in June (
Hearts Awakening
) and really enjoyed it. I enjoyed it so much that I was excited to start reading her newest book,
Love's First Bloom.
I was not disappointed by this one. It had so much going on--a critique of tabloid journalism, a lot of mystery and suspense, and a sweet love story, all rolled into one. I liked this book even more than her last release!
At the young age of 22, Ruth Livingstone is sent into hiding while her reverend father stands trial for the murder of a young prostitute. In her care is a young toddler, the secret daughter of the woman Reverend Livingstone is accused of murdering. Ruth has the weight of many secrets and responsibilities on her shoulders, but her main concern is keeping herself and little Lily out of the media spotlight and safe from the reaches of those who may wish them ill.
There is a definite undercurrent of mystery and suspense here, as Ruth tries to understand her father's motives and keep her identity a secret. But the secrets begin to weigh her down as she feels guilty lying to the wonderful people who have taken her and Lily in. Then Jake Spencer enters the picture, a newspaperman determined to earn his brother's forgiveness and respect by tracking Ruth down and writing the definitive story on her reasons for going into hiding. He assumes a false identity as well in his quest to track down the facts of the story, but as he gets to know Ruth his conscience kicks in as well. And when other reporters start to sniff around their town, he worries that they will beat him to the story and won't portray Ruth in the way that she deserves.
I really enjoyed the suspense that the story brought--the questions about Reverend Livingstone's innocence, the curiosity about the small trunk that he sent ahead of Ruth without her knowledge, and the fear of whether she would be tracked down and exposed for who she truly was. The romance that developed between Ruth and Jake wasn't perfect, especially considering that they both were keeping secrets from each other, but their reasons for keeping those secrets helped forgiveness to come more easily. Even though I wished that Jake would have come to his realization about God's direction for him (vs. his brother's expectations), his newspaper article at the end of the book was triumphant and redeeming.
I loved how baby Lily became such an important part of Ruth's life, even before the revelations about Lily's mother came to light. For a young woman who felt so alone in her secrets, to have this child in her life and to discover that the child had so fully stolen her heart so quickly was quite touching. I also liked her relationship with the Garners, the couple who took them in. They were wonderful people who provided them with a stable family life and safe place to live, as well as providing a loving example to Ruth and Lily.
The way that the tabloid press worked in this novel was astonishing but true-to-life. Theories were thrown around like they were fact, and people's names were dragged through the mud. Poor Ruth had a terrible experience with it--she had to read the newspapers to keep updated on her father's trial and had to endure their smears on his character and hers as well. I was glad when she decided to stop reading the newspapers because it only caused her heartache.
I really enjoyed this book. The characters were believable and real (including how much of a handful young toddlers can be!), the mysterious elements were well-done, and the ending held so much promise. The way things fell into place in the end was just perfect. If Ms. Parr ever felt the desire to return to these characters and their "network," I would gladly follow along.
Related linkage:
Reading Challenges: Christian Historical Fiction Challenge