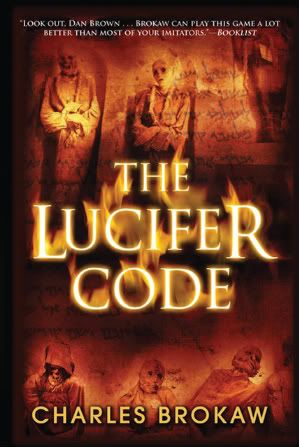 The Lucifer Code
by
Charles Brokaw
Genre:
Thriller
Pages:
368
Date Published:
August 31, 2010
Publisher:
Forge Books
Source:
I received a review copy from Tolly at
PR by the Book
. Thank you Tolly!
Rating:
3 of 5 stars
Book Description
(from the
publisher
):
AN ANCIENT MANUSCRIPT HAS REMAINED CONCEALED FOR CENTURIES -- WITHIN ITS PAGES LIES THE KEY TO THE MOST UNHOLY SECRET KNOWN TO MANKIND.
A sacred brotherhood has sworn, generation after generation, to protect this terrifying truth from those who would use it to unleash doomsday upon mankind.
When the unthinkable happens, and the holy scroll is uncovered, the race is on to reveal the true meaning of the cryptic language. Only one man, Dr. Thomas Lourds, the world's foremost scholar of ancient languages, who we first met in the bestselling novel The Atlantis Code, can safely decipher this most deadly scripture.
Lourds soon becomes the bait in the most lethal manhunt -- knowing he must confront the true face of evil if the world is to be saved...
◊ ◊ ◊ ◊ ◊ ◊
The Lucifer Code
is the second of Charles Brokaw's books featuring linguist Thomas Lourds. I haven't read the first book,
The Atlantis Code
, but I didn't have a difficult time following this story without it. There are some references to his Atlantis adventure, but beyond making me curious about that book it didn't make me feel like I was missing anything.
You could call this book part of a trend that seeks to imitate Dan Brown's thrillers. Like Robert Langdon, Thomas Lourds is an academic. But where Langdon is a symbologist, Lourds is a linguist. They both are intelligent men who are at the top of their field, and whether it has to do with symbols or lost languages, if you are in need of deciphering something you would want one of these men on your side. But here's a major difference: I really like Langdon, but I really dislike Lourds. Lourds is insufferably arrogant (he is smart and he boy does he know it) and he is obsessed with sex. There are two main women involved in the storyline (besides the woman sleeping with the bad guy), and Lourds sleeps with both of them at some point. Even when he's being threatened with bodily harm or death, he still can't stop thinking about getting into the hot girl's pants. Blech. There are a couple of graphic sex scenes in the book, which I could have done without.
The best thing about this book was the suspense factor. Brokaw did a really good job of keeping the storyline rolling, keeping me interested in what was going to happen next. In this way
The Lucifer Code
was better than Dan Brown's last book,
The Lost Symbol
(I complained last September that it wasn't suspenseful enough)
.
The action picks up right away, and even when the reader isn't entirely sure why the bad guys want Lourds, the fact that someone is trying to kidnap or kill him keeps you at the edge of your seat.
I kind of figured that the ultimate villain in this book would be much scarier than he ended up being. As you can guess based on the title of the book, it ends up being Lucifer--aka Satan, the Devil. In this thriller he holds a powerful position in the government and uses it to his own advantage. But he doesn't seem that much more evil than your ordinary bad guy, and he was defeated much easier than I expected.
In the midst of Lourds learning that Lucifer exists and is trying to wreak havoc on the planet, as well as his discovery that Jesus's apostles were real and that John of Patmos had left behind important writings that could effectively stop the devil from doing his worst, he doesn't seem that affected by it. He says he believes there is a God, but that He isn't active in the world. I would have thought that perhaps with all that he was personally experiencing, he would have been led to some introspection and evaluation of his life and his belief system. But no, Lourds continues to womanize and doesn't once have second thoughts about the way he is living his life. Kind of a bummer, really, since the book makes a case for the power of God against Satan.
The suspense part of this book kept me turning the pages, even as I rolled my eyes at the main character, so for that the book gets 3 stars. I'm not sure that I will read another book about Professor Lourds, though. As curious as I am about his Atlantis adventure, I'm not sure I want to be exposed to more of his arrogance and active libido.
Related Linkage:
◊ ◊ ◊ ◊ ◊ ◊
So, I didn't love this book. So what? Maybe
you're
in the mood for this thriller! The publisher was kind enough to provide a copy for giveaway to my readers. If you're interested, please fill out the form below:
This giveaway has ended. Congratulations to the winner!
Details
: Giveaway ends on November 8 at 11:59pm Pacific Time. Entrants should be 16 years of age or older. Winner will be contacted via e-mail. Open internationally. I am not responsible for lost or damaged mail. You can earn extra entries by spreading the word about this giveaway--see the form for details.