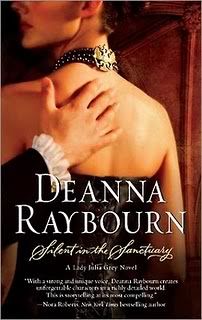 Silent in the Sanctuary
by
Deanna Raybourn
(Book 2 in the Lady Julia Grey series)
Genre:
Historical Fiction, Mystery, Romance
Pages:
484
Date Published:
January 2008
Publisher:
MIRA Books
Source:
Kathleen at CelticLady's Reviews
gave me her extra copy. Thanks Kathleen!
Rating:
4.5 of 5 stars
Book description
(
from the publisher
)
:
Fresh from a six-month sojourn in Italy, Lady Julia returns home to Sussex to find her father's estate crowded with family and friends. Much to her surprise, the one man she had hoped to forget—the enigmatic and compelling Nicholas Brisbane—is among her father's houseguests… and he is not alone. Not to be outdone, Julia shows him that two can play at flirtation and promptly introduces him to her devoted, younger, titled Italian count.
But the homecoming celebrations quickly take a ghastly turn when one of the guests is found brutally murdered in the chapel. Lady Julia resumes her unlikely and deliciously intriguing partnership with Nicholas Brisbane, setting out to unravel a tangle of deceit before the killer can strike again.
◊ ◊ ◊ ◊ ◊ ◊
Lady Julia Grey returns to England after spending six months in Italy recuperating from the physical and emotional injuries she sustained at the conclusion of the previous book in the series (
Silent in the Grave
). Despite the sparks between Lady Julia and Brisbane in their previous adventure, his lack of contact has angered her, and, even worse, her arrival home for Christmas finds Brisbane there... with a woman he is engaged to. During a snowstorm, one of the guests at Lady Julia's family's estate is murdered, and the storm strands everyone there for days with a murderer in their midst. The mystery forces Brisbane and Lady Julia back together to try to discover the guilty party before he (or she) murders again.
I thought this was a fine episode in the series. It felt a bit more developed than the first book and the mystery had more twists as well. There were so many interesting characters in this one, providing a large number of possible suspects with various possible motives. Having the action occur at the March family's estate was an interesting way to give the readers a chance to get to know Julia's family better (especially her father). In all, I think this book laid some good groundwork for future books featuring some of these characters again.
Brisbane continued to be secretive and confusing, but he was also surprisingly willing to allow Julia to help with the investigation (though it was at the insistence of her father). I suspected that his engagement had something to do with an investigation, and I had to laugh at the initial personality of his betrothed--she was so sickeningly sweet and good that I laughed out loud when her true personality was revealed.
I do wish that Brisbane would have been more forthcoming with Julia about his current investigation, if only so that their sleuthing could have gone easier and with more cooperation. The way the murderer was unveiled was surprising, and the additional twists at the end made me convinced that we haven't seen the last of Julia's cousins Lucy and Emma.
There is a bit of gothic flavor in this one with the "ghost" sightings and Julia's aunt's penchant for seances. The setting of the old Abbey and the storm also contributed to the gothic atmosphere. Again the quotes at the beginning of each chapter were perfectly chosen and I now look forward to each one while I'm reading.
I thought this was an enjoyable sequel to
Silent in the Grave
. The relationship between Lady Julia and Brisbane continues to have great promise, and I enjoyed getting to know more of Julia's family. Stay tuned for reviews of the next two books in the series.
Related linkage: