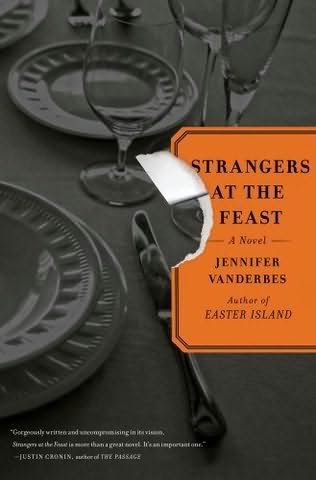 Strangers at the Feast
by
Jennifer Vanderbes
Genre:
Contemporary Literary Fiction
Pages:
334
Date Published:
August 2010
Publisher:
Scribner
Source:
Crazy Book Tours
Rating:
3.5 of 5 stars
Book description
(
from the publisher
):
On Thanksgiving Day 2007, as the country teeters on the brink of a recession, three generations of the Olson family gather. Eleanor and Gavin worry about their daughter, a single academic, and her newly adopted Indian child, and about their son, who has been caught in the imploding real-estate bubble. While the Olsons navigate the tensions and secrets that mark their relationships, seventeen-year-old Kijo Jackson and his best friend Spider set out from the nearby housing projects on a mysterious job. A series of tragic events bring these two worlds ever closer, exposing the dangerously thin line between suburban privilege and urban poverty, and culminating in a crime that will change everyone's life.
In her gripping new book, Jennifer Vanderbes masterfully lays bare the fraught lives of this complex cast of characters and the lengths to which they will go to protect their families. Strangers at the Feast is at once a heartbreaking portrait of a family struggling to find happiness and an exploration of the hidden costs of the American dream.
◊ ◊ ◊ ◊ ◊ ◊
Strangers at the Feast
is told from multiple points of view, which underlines the fact that the characters are, no matter their relationship with each other, strangers to each other. They also seem to be strangers to themselves in many ways, puzzling over changes that had occurred to themselves and within themselves. Although the timeline of the story focuses mainly on Thanksgiving holiday, there are a lot of flashbacks and background provided throughout. It could be a bit disorienting at times, but an interesting character study nonetheless.
The currents in the storyline are startlingly true to current events. The story touches on the ways that war, the housing and economic crisis, and issues regarding eminent domain have affected us--rich and poor alike. It also explores women's roles in families, from the traditional housewife to the professional woman and the women who try to balance both. And it explores men's roles as well, as father, son, brother, husband, and breadwinner, and what happens when they fail in their roles. The family in this story has a lot of emotions simmering just below the surface, but the main emotion they seem to share is fear.
As interesting as the connections were between real-life and this fictional story, and
as much as I liked the beginning
, I wasn't completely satisfied with this book. There was so much development of the characters and their backgrounds, but little resolution at the end. The story reaches its climax and ending too quickly and leaves the reader wondering what happened. I got a feel for how Ginny and Douglas ended up, but what about Eleanor, Gavin, Priya, Denise and the kids? And what about Kijo and Spider's families? Why introduce us to the real strangers at the feast, providing background on them and everything, but not follow through on how the events in the book affected their families?
I think I would have liked this book more if I felt like I gained some new perspective on life, or a better understanding of people different from me--if I felt like I learned something. But all I really felt while I was reading the book and after I finished was depressed. Not every book has to have an illuminating message, but this one was such a downer that I just didn't enjoy it that much. And for me not to love a book with a character who teaches American Studies in it (Ginny) is depressing in and of itself.
Related linkage: