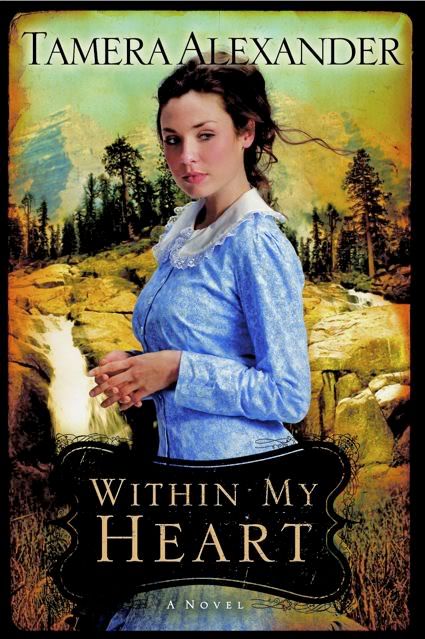 Within My Heart
by
Tamera Alexander
Book 3 of the Timber Ridge Reflections series
Genre:
Christian Historical Romance
Pages:
374
Date Published:
September 2010
Publisher:
Bethany House
Source:
I received a free copy through the
Bethany House Book Reviewers
program.
Rating:
4 of 5 stars
Book Description
(from the
publisher
):
Sometimes the greatest step of faith is taken neck-deep in fear.
Determined to fulfill her late husband's dream, Rachel Boyd struggles to keep her ranch afloat with the help of her two young sons. But some days it feels as though her every effort is sabotaged. When faced with a loss she cannot afford, she's forced to trust Rand Brookston, the one man in Timber Ridge she wishes to avoid. And with good reason. He's a physician, just like her father, which tells her everything she needs to know about him. Or so she thinks....
Dr. Rand Brookston ventured west with the dream of bringing modern medicine to the wilds of the Colorado Rockies, but the townspeople have been slow to trust him. Just as slow in coming is Rand's dream to build the town a proper clinic. When a patient's life is threatened, Rand makes a choice—one that sends ripples through the town of Timber Ridge. And through Rachel Boyd's stubborn heart.
From the beloved, bestselling author of From a Distance and Beyond This Moment comes an unforgettable story about faith in the face of fear, about tarnished hopes and second chances, and ultimately about the resilient courage and tenacity of hearts broken——and mended——by love.
◊ ◊ ◊ ◊ ◊ ◊
Although this is the third book in the Timber Ridge Reflections series, this is my first time reading a book by Tamera Alexander. I have the first book of this series on my TBR pile, but I haven't gotten to it yet. Thankfully, this is one of those series books that can stand alone--I didn't feel lost in this story even though I haven't read the first two books of the series.
Within My Heart
focuses on widow Rachel Boyd and Dr. Rand Brookston. Rachel is raising her two sons on her own and trying not to lose the ranch that her late-husband had worked so hard for. Rand is battling the ghosts of his Civil War experiences while caring for the people of Timber Ridge and saving up money to open a new medical clinic in town. The two are brought together by the health problems of Ben, one of Rachel's closest friends. Rachel's knowledge of medicine (learned from her doctor father) comes in handy for Rand's work, and Rand's knowledge of animal medicine helps Rachel with her ranch. But she's wary of getting too close to Rand--her father's less-than-stellar example of medical men clouds her judgement of him and she still struggles with sorrow over losing her husband. It's only when they both face their fears that they finally give into their hearts.
This was a pretty good romance, but set in some heartbreaking circumstances. Ben's health problems bring the two together, but it is sad to watch him and his wife suffer through his ailments. Rand and Rachel make a pretty sweet couple, and the secondary characters in the story are great as well. Rand's Civil War experience was frankly horrifying and I thought that it gave the story an interesting twist. But even though they fought their attraction and fought with each other, I never really doubted that they would end up together in the end. I was glad they did, but there wasn't that much suspense for me in it. I would love to see how their lives progress after their marriage--did Rachel take on more medical responsibilities? Did her boys accept Rand? Was the health clinic successful?
This was a lovely story set in sad circumstances, but with a good outcome. This wasn't my favorite read of the year, but I am interested in reading more books in the series.
Related Linkage:
Reading Challenges: Christian Historical Fiction Challenge