I am so sorry you guys! I had this scheduled to post, but then I saved it as a draft instead of publishing the post! What a brilliant way to start my second week hosting the meme, eh?
How to participate:
Share the first line (or two) of the book you are currently reading on your blog or in the comments. Include the title and the author so we know what you're reading. Then, if you feel so moved, let us know what your first impressions were based on that first line, and let us know if you liked or did not like the sentence.
Thanks to
Becky at Page Turners
for starting this meme and to
Rose City Reader
for inspiring it! The link-up will be here at
A Few More Pages
every Friday.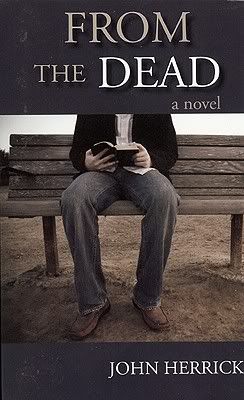 My latest read is
From the Dead
by John Herrick (ISBN: 9780982147016). Here is the first line:
Jada Ferrari lit the collection of miniature candles along the coffee table.
My thoughts on this line? It's not that exciting, to be honest. The only question that comes to mind is why is she lighting candles? The name of the woman is, well, interesting to say the least. But the first line doesn't particularly grab me or repel me, so I'm willing to see where this story takes me.
So, what is the first line of your current read, and how did you like it? Please leave the link to your specific post, not just to the front page of your blog.
---
| | |
| --- | --- |
| | This linky list is now closed. |