One of my husband's biggest complaints about my love of books is that there are too many in our house. I love to buy books (I have a weakness for used bookstores especially) and have received numerous books for review through my blog, so the pile seems to get bigger almost everyday. Personally, I love them--
there's something comforting about having shelves of books around me
,
holding countless choices of worlds to discover to suit any mood.
But I must maintain some kind of peace in my house, so I've taken a few different steps to try to prevent my book collection from getting too large to handle.

First,
I have become a lot more choosy about which books become part of my permanent collection.
I try to keep only the books that I have loved and believe I will re-read at some point in the future. Sometimes I'll also keep books that I think my kids will enjoy when they get a little older.
Second,
I try to find new homes for the books that don't meet the requirements for my keeper shelf.
Sometimes I'll box up those books and donate them to the Friends of the Library, sometimes I'll donate them to the local thrift store, sometimes I'll offer them in giveaways at my blog, and sometimes I'll give them to friends and family. The most important thing is that someone else gets to enjoy the books that I have already had a chance to enjoy.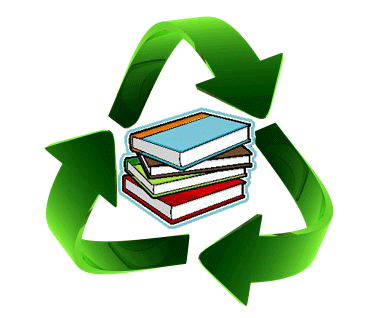 Another alternative is to
offer them for exchange through a book-swapping service like Paperback Swap or BookMooch.
I'm a member at both places and they have been a great way to get rid of books I don't want to keep in exchange for credits toward books from other swappers. The downside to book-swapping sites is that they don't really result in less books at my house, but at least the books coming in are replacing books that already went out and are not just adding to the pile (one goes out and another comes in).
Of course, another great way to avoid the piling up of books at my house has been to
utilize the library more
. I've found it wonderfully convenient to check books out from the library. Even when my local library doesn't have a book in its collection, I can put in a request for it at no charge. Usually within a few weeks the book arrives at my local branch and I can pick it up and enjoy it. This is an avenue I haven't utilized as much in the past but I would like to do so more in the future.
Lastly,
I have joined a couple of one-book and one-ARC tour sites
, which offer book bloggers the opportunity to read and review a book that gets sent on to the next reviewer in line. So far my experiences with this type of book tour have been positive and have resulted in exposure to some great books and authors without having to figure out what to do with the book when I'm finished. Here are links to some one-book/one-ARC tour sites (I'm not a member at all of them):
So, these are the ways that I've been trying to manage my book collection and keep it from overwhelming the house.
What steps have you taken to try to manage your bookshelves?