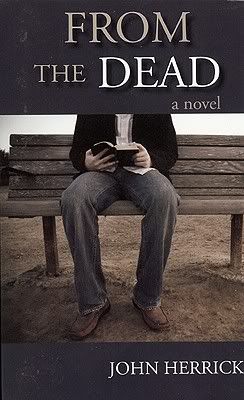 From the Dead
by
John Herrick
Genre
: Contemporary Fiction
Pages
: 384
Date Published
: August 31, 2010
Publisher
:
Segue Blue
Source
: The author sent me a review copy. Thank you John!
Rating
: 4 of 5 stars
Book Description
(from the
publisher
):
A preacher's son. A father in hiding. A guilty heart filled with secrets. When Jesse Barlow escaped to Hollywood at age eighteen, he hungered for freedom, fame and fortune. Eleven years later, his track record of failure results in a drug-induced suicide attempt. Revived at death's doorstep, Jesse returns to his Ohio hometown to make amends with his preacher father, a former love, and Jesse's own secret son. But Jesse's renewed commitment becomes a baptism by fire when his son's advanced illness calls for a sacrifice—one that could cost Jesse the very life he regained. A story of mercy, hope, and second chances, From The Dead captures the human spirit with tragedy and joy.
◊ ◊ ◊ ◊ ◊ ◊
This is truly a book that defies categorization. Although it has a theme of redemption and forgiveness, it wouldn't be considered your typical Christian fiction novel. The first part of the story focuses on Jesse's life in Hollywood as it falls apart. It portrays his life with the curse words, drinking, drugs, and unmarried sex that exist in it, along with the suicide attempt that leads him back home to start over. This section is very realistic and doesn't pull any punches. It may be too much for some readers of Christian fiction (especially those who prefer a "clean" read), but if you don't mind a bit of edgy and honest material,
From the Dead
is a worthwhile read.
From the Dead
is a story that touches on many themes--returning home, starting over in life, the relationships between fathers and sons, acceptance of responsibilities, and forgiveness. To me, Jesse seems to be the quintessential "prodigal son". He left home eleven years earlier to escape the judgmental eyes and expectations of those around him who expected him to follow in his preacher father's footsteps. His desire to rebel and find himself leads him to Hollywood, where he spends eleven years of disappointment. When he realizes that his relationships have no depth and his career is at a standstill, he unsuccessfully attempts suicide. Returning home to start over, he takes a job as a maintenance man and begins to reconnect with the people from his past. Although he struggles with his relationship with his father, things seem to be improving. He feels like he is home.
One thing he didn't expect when he returned was to learn that he has a son named Drew. The abrupt end of his relationships when he left home ten years ago resulted in not learning that he had become a father. So not only is Jesse starting his life over, he is starting a fresh relationship with the son he never knew and renewing his friendship with his son's mother. There is more focus on the relationship between father and son than between Jesse and his old high-school girlfriend, but really that is the more important relationship of the two. His transformation from a self-focused person into a loving and involved father is remarkable and honest, especially since Jesse's mistakes are not glossed over or ignored.
Jesse's lack of concern for his frequent nosebleeds and dizziness frustrated me. Even when doctors showed concern for his symptoms, he brushed it off because he didn't have health insurance. Then when Drew has a life-threatening health crisis Jesse hides his health problems, hoping that he can help Drew. I wanted to shake some sense into Jesse. His intentions are selfless, but I can't believe that he didn't consider whether his hiding the truth would hurt Drew more than it would have helped.
Overall,
From the Dead
was a surprising and thought-provoking read. I think it would definitely appeal to readers of general mainstream fiction. Although it handles some faith-related themes, they are very subtle and are not preachy in the least. The faith elements are not really the focus of the story--Jesse's struggle to forge a new life out of his old one takes the forefront. I think it would be an interesting book club choice--there are a lot of great discussion points to be found in this book.
Related Linkage: