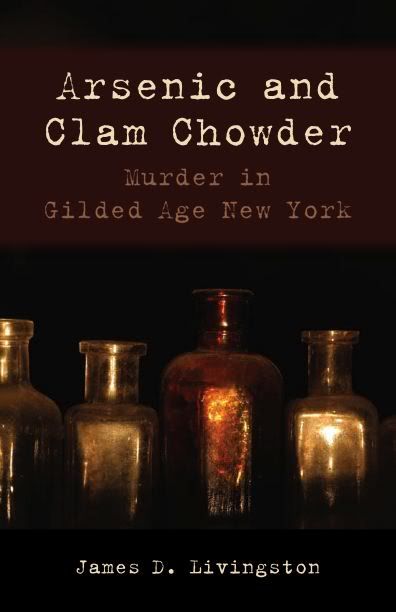 Arsenic and Clam Chowder: Murder in Gilded Age New York
by
James D. Livingston
Genre:
Non-Fiction History
Pages:
205
Date Published:
July 2010
Publisher:
State University of New York Press, Excelsior Editions
Source:
I received a free review copy in order to participate in a Pump Up Your Book! Virtual Book Tour.
Rating:
4 of 5 stars
Book Description
(from the
publisher
):
Arsenic and Clam Chowder recounts the sensational 1896 murder trial of Mary Alice Livingston, a member of one of the most prestigious families in New York, who was accused of murdering her own mother, Evelina Bliss. The bizarre instrument of death, an arsenic-laced pail of clam chowder, had been delivered to the victim by her ten-year-old granddaughter, and Livingston was arrested in her mourning clothes immediately after attending her mother's funeral. In addition to being the mother of four out-of-wedlock children, the last born in prison while she was awaiting trial, Livingston faced the possibility of being the first woman to be executed in New York's new-fangled electric chair, and all these lurid details made her arrest and trial the central focus of an all-out circulation war then underway between Joseph Pulitzer's World and Randolph Hearst's Journal.
The story is set against the electric backdrop of Gilded Age Manhattan. The arrival of skyscrapers, automobiles, motion pictures, and other modern marvels in the 1890s was transforming urban life with breathtaking speed, just as the battles of reformers against vice, police corruption, and Tammany Hall were transforming the city's political life. The aspiring politician Teddy Roosevelt, the prolific inventor Thomas Edison, bon vivant Diamond Jim Brady, and his companion Lillian Russell were among Gotham's larger-than-life personalities, and they all played cameo roles in the dramatic story of Mary Alice Livingston and her arsenic-laced clam chowder. In addition to telling a ripping good story, the book addresses a number of social and legal issues, among them capital punishment, equal rights for women, societal sexual standards, inheritance laws in regard to murder, gender bias of juries, and the meaning of "beyond a reasonable doubt."
◊ ◊ ◊ ◊ ◊ ◊ ◊
Mary Alice Livingston was not your typical 1890s woman. A member of one of the more prestigious families of New York, she was also the mother of four out-of-wedlock children. But her notoriety came not just from her series of breach of promise lawsuits, but from her arrest and trial for the poisoning of her mother, Evelina Bliss, in 1896.
Arsenic and Clam Chowder
is a true-crime story that delves into the newspaper coverage, unpublished papers of Mary Alice's half-brother, and available trial transcripts to reconstruct the events surrounding Evelina's death and the prosecution's case against Mary Alice. Amidst the yellow journalism of Joseph Pulitzer's
World
and William Randolph Hearst's
Journal
, her story made headlines and was widely followed. Would Mary Alice be convicted of murder and become the first woman to be executed in New York's electric chair?
Evelina and Mary Alice's stories were quite interesting. I was fascinated by the press coverage of Mary Alice's trial and by the author's inclusion of pertinent background information on government competition in New York, society's expectations of women, the court system of the time, and the history of Mary Alice's family. I was surprised at Mary Alice's situation as an unmarried woman with four children. Society would have frowned on her circumstances, but she seemed not to care about that. I also found her two breach of promise suits interesting (breach of promise basically referred to a broken engagement). The first suit came in 1882 after the birth of her first child, and the man she sued basically accused Mary Alice and her mother of being prostitutes! She won her case, but the sensational trial brought her a lot of attention. Her second lawsuit was filed in 1886, the year after her second child was born. That trial was not as successful, and as Livingston points out, "Apparently Mary Alice, now twenty-five and the mother of two, was no longer fully convincing in the role of an innocent young girl" (54).
Arsenic and Clam Chowder
provides a fascinating window into Gilded Age America, from its politics and justice system to its social standards and mass media. The writing style is an easy-to-follow narrative that even the general reader will enjoy. If you enjoy true-crime stories and urban history at the turn of the twentieth century, this book is for you! Fans of women's history will not be disappointed.
Related Linkage:
Reading Challenges: Women Unbound