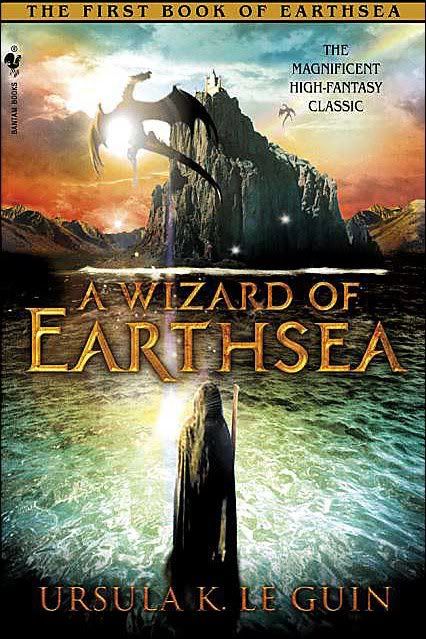 A Wizard of Earthsea
by
Ursula K. Le Guin
(Book 1 of the Earthsea Cycle)
Genre:
Fantasy
Pages
: 183
Date Published:
1968 (I read a May 1984 printing)
Publisher
: Bantam Books
Source:
I purchased this book used from a local charity thrift store.
Rating:
4 of 5 stars
Book Description
(from the back cover):
Ged was the greatest sorcerer in all Earthsea, but once he was called Sparrowhawk, a reckless youth, hungry for power and knowledge, who tampered with long-held secrets and loosed a terrible shadow upon the world. This is the tale of his testing, how he mastered the mighty words of power, tamed an ancient dragon, and crossed death's threshold to restore the balance.
◊ ◊ ◊ ◊ ◊ ◊ ◊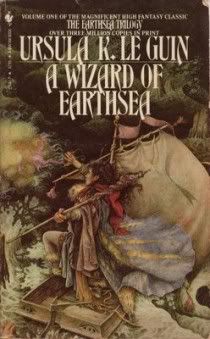 Although I had heard of the Earthsea books, I had not read them nor seen the Sci-Fi adaptation. What finally got me to pick up this book was a
discussion about whitewashed covers at The Booksmugglers
. In the recent uproar over the whitewashing of book covers, it was mentioned that
this
book had been whitewashed way back in the day--it was an example of how cover whitewashing is not a new thing. The 1984 copy I picked up at the thrift store is indeed whitewashed (see photo on the right). Ged is depicted as an elvish fellow, with light skin and curly dark hair. In the book the people of Ged's island are described as having "dark copper-brown" skin. The cover art is a bit baffling because there are a lot of little details included from the story (the boat, Ged's cloak, the dragon, etc.)--except for the character's skin color. Cover whitewashing is annoying and unnecessary, but I am glad that the controversy drew me to finally pick up this book and give it a try. It was wonderful.
I admit I had a hard time getting into this book at first. The main character starts out arrogant and self-centered. It wasn't until his selfish actions resulted in death, his disfigurement, and the release of a terrible darkness on the world that he was brought down a notch or two. Ultimately the experience forces him to grow up and become more responsible, and once that growth began I was hooked. Plus I love stories with dragons and one of his first duties after he leaves the wizard school is to deal with dragons. His transformation into a man deserving of his unparalleled talent was riveting and satisfying. There is something so encouraging about a story of redemption and renewal.
I am so disappointed that I didn't read this book earlier in my life! I know I would have loved it just as I loved The Chronicles of Narnia and The Lord of the Rings when I was growing up. I am planning to read the rest of the series soon.
Highly recommended!
Related Linkage:
Reading Challenges: Twenty Ten Challenge, Flashback Reading Challenge, POC Reading Challenge