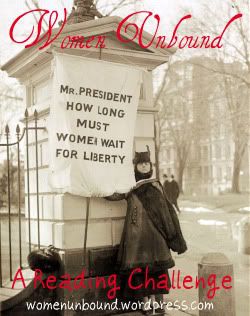 I've officially completed the
Women Unbound Challenge
, right on time (ends at the end of November)
!
I participated at the
Bluestocking Level
(at least 5 books, with at least two of them being non-fiction). The non-fiction was surprisingly the hardest for me to complete. I put it off until the last minute. I listed my challenge books below, with links to the reviews. I read a lot more fiction that could be counted for this challenge, but I didn't have time to read the additional non-fiction that would allow me to step up to the next participation level. My favorite book of the ones listed here was
Wench by Dolen Perkins-Valdez
. I was really impressed by how authentic the novel seemed compared to the historical record. My least favorite book of the group was
Glorious by Bernice McFadden
. All were interesting, and all were a bit different from my usual reading. I didn't get around to reading most of my
preliminary list
, so my future reading is sure to be filled with Women Unbound.
Completed: