How to participate:
Share the first line (or two) of the book you are currently reading on your blog or in the comments. Include the title and the author so we know what you're reading. Then, if you feel so moved, let us know what your first impressions were based on that first line, and let us know if you liked or did not like the sentence. The link-up will be here at
A Few More Pages
every Friday.
Thanks to
Becky at Page Turners
for starting this meme and to
Rose City Reader
for inspiring it!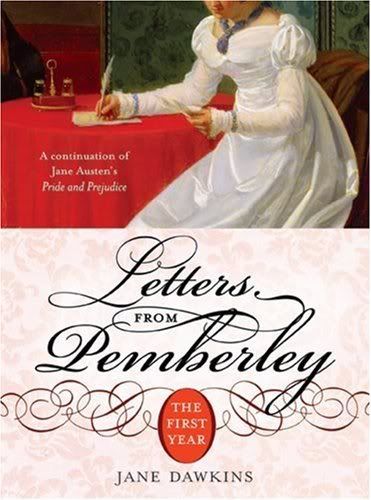 This week I am reading
Letters From Pemberley: The First Year by Jane Dawkins
(ISBN:
9781402209062). It is a collection of letters, so my first line comes from the first letter, dated 3 February 1813, from Mrs. Fitzwilliam Darcy to Mrs. Charles Bingley:
Can it really be only several weeks since our joyful nuptials and tearful farewells?
There is just something about this time of year that has got me yearning for more Jane Austen. This book has been lovely so far, and has even got me thinking I need to re-read Pride and Prejudice again. As you can tell by the first line, this book picks up after the end of that story, and I'm feeling like I need to revisit the original so I can enjoy it all the more.
So, what is the first line of your current read, and how did you like it? Please leave the link to your specific post, not just to the front page of your blog.
---
| | |
| --- | --- |
| | This linky list is now closed. |