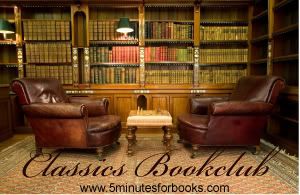 The Classics Bookclub
at
5 Minutes for Books
is ending, so I went back to my
start-up post
to see how I did. I had to chuckle that I only read
one
of the books I mentioned in my
sign-up post
(
Fahrenheit 451
), but I did end up reading several other classics during the year that I hadn't planned on. Here are the classics I read this year:
So, I'm actually a little surprised, after making this list, that I managed to read six books that I would consider classics. Several of them were written during the twentieth century, which some people might disqualify from the moniker "classic" but most of them I think are worthy of that title. The only questionable one is the Georgette Heyer novel, but I think the book is OK in this category because of who the author is.
My favorite classic read this year was
To Kill a Mockingbird
, and that was a re-read (I read it the first time in high school). My least favorite was
Around the World in Eighty Days
, though that isn't going to keep me from giving Jules Verne another try at some point in the future. I'm positive I will continue to read and review classics on my blog, and I'd love to read more than six classics in 2011 (here I go, challenging myself for the new year!).
I've enjoyed the Classics Bookclub, though I wish I would have participated more. Thank you 5 Minutes For Books for hosting this enjoyable event!