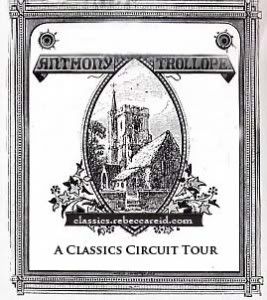 "The Two Heroines of Plumplington" - a novella by
Anthony Trollope
From
The Two Heroines of Plumplington and Other Stories
Genre
: Classic Literature
Pages:
58
Date Published
: 1882 (I read a 1981 reprint)
Publisher
:
The Folio Society Ltd.
Source
: My local library
Rating
: 3 of 5 stars
Story Description
(from
The Trollope Society website
):
Mr. Greenmantle, the bank manager at Plumpington, had a daughter Emily, who was in love with Philip Hughes, cashier at the bank. The banker, a thorough snob, objected to Philip as a son-in-law because he was not his social equal and had no money. On a lower plane a similar situation had developed in the home of Hickory Peppercorn, the local brewer. Jack Hollycombe, a malt salesman, loved Polly Peppercorn, but her father thought she could do better....Both girls had the sympathy and understanding of the village rector, the Rev. Dr. Freeborn, who invited both families and the two suitors to a Christmas dinner, and succeeded in creating such a warm spirit of friendliness that he soon after performed both wedding ceremonies.
♦♦♦♦♦♦♦♦
This story focuses on two women who are determined to marry for love and must convince their disapproving fathers to support them in their decision. Both young ladies are only children, and are clearly well-loved by their fathers. Unfortunately, their fathers think the men they've chosen aren't good enough for them, so they refuse to go along with their daughters' wishes. Polly Peppercorn wears down her father by putting away her pretty dresses and treating people like they are of a higher class than she is, telling her father that if he will not support her wishes (and give her intended husband the allowance he was refusing to give) then she must learn to live at a lower standard of living as Jack's wife. Emily Greenmantle wears down her father after she stops eating and becomes sickly. Both young ladies have the sympathy of Dr. Freeborn, who does what he can to put in a good word on their behalf with their fathers when he sees them. Eventually the women are successful in winning over their fathers and they all celebrate a lovely Christmas dinner together--fathers, daughters, and future sons-in-law all.
I enjoyed this story to a certain extent, but it was a bit dry for my taste. I've never read Trollope before and I wasn't really sure what to expect, but this story just didn't grab me. There wasn't very much action--much of the story consisted of conversation and planning--and I had a hard time staying interested. I think part of the problem was that I never really connected with the characters. These girls were well-off and both claimed they would be willing to marry without their fathers' financial support, but their actions to win over their fathers didn't win me over. Sure, I thought their fathers had silly reasons for not supporting their wishes for marriage, but I also felt like the girls' actions were not that heroic. In order to get what they wanted, Polly wore boring dresses and Emily made herself sick. I think part of my ambivalence to the story is that I am of a different generation, and I just didn't get it. It seemed manipulative, but who am I to judge? Women didn't have as much freedom of choice then as we do today.
So, alas, this story didn't rock my world, but I'm always willing to give an author a second try. Is there a book by Anthony Trollope that you, my friendly readers, would recommend for this Trollope newbie?
Related Linkage: