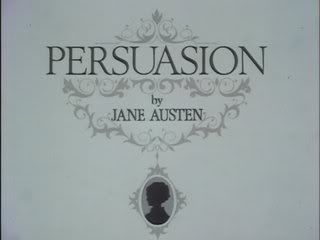 My mom bought this film for me as part of a set of BBC Jane Austen adaptations last Christmas. The only other film adaptation of
Persuasion
(my favorite Austen novel!) I've seen so far is the 1995 version, which I thought was OK. I have the newer film (2007) here on DVD too, which I'm planning to watch next.
This version was a mini-series that aired in 1971. It stars Anne Firbank as Anne Elliot and Bryan Marshall as Captain Wentworth. I must admit that I liked this version! Sure, the costumes seemed a bit, well, early-seventies-influenced (whew some of those prints were bright!), but I liked that it followed the novel so closely. The film turned out to be about four hours long, but it was a miniseries of two episodes so it wasn't necessarily designed to watch all in one sitting.
Things I liked:
As I already mentioned, I liked that the film followed the novel so faithfully. The dramatic changes that were made didn't stand out that much to me, and I couldn't think of anything specifically important that was left out. I liked the way that the characters were portrayed, for the most part. Anne was prettier than she is often portrayed in film, but she also looked older than the 27 year-old character in the book (those wrinkles around Ms. Firbank's eyes threw me off). Anne's father and sister Elizabeth were a bit more subtlely portrayed than in the 1995 version, though you definitely get a feeling for how ridiculous and vain they are the more they are on screen (I laughed out loud at Admiral Croft's comments on the sheer number of mirrors in Kellynch Hall, and them again when Charles Musgrove makes the same kind of observation when he visits the Elliots at Bath). Bryan Marshall was a fabulous choice for Captain Wentworth--he was much livelier and expressive than the way he was portrayed by Ciarán Hinds in 1995, and handsome too.
Things I didn't like:
Louisa Musgrove was a total ninny. She was giggly and loud and just plain annoying in every scene--I had a very hard time understanding how anyone would find her interesting! There were also various places in this film that I fast-forwarded through because they were just too slow-moving. This mainly involved watching horse-drawn carriages start moving on a journey and come to the end of a journey. The long walk was also annoyingly long and uninteresting when it featured no talk and all walk. The hairstyles were a bit large (again I think influenced by the year the film was made) and the colors in the costumes a bit bright for my taste, but those were easy to overlook when I really got drawn into what was going on. One last thing that surprised me--there was no dramatic background music in this film. When these long walks or wordless carriage scenes were taking place, most modern films I think would have some kind of music to fill the silence. The only music I noticed was
the score at the beginning and end credits
and the music Anne played on the piano at various points in the film.
In the end, I'm quite glad that I finally sat down to this film. It was a lovely adaptation of Jane Austen's
Persuasion.
If you decide to watch it I would recommend keeping your remote control nearby, though, to speed up some of the long walking and horse-and-carriage scenes.
Related Linkage:
I'm reviewing this film as part of the
Everything Austen II
Challenge.