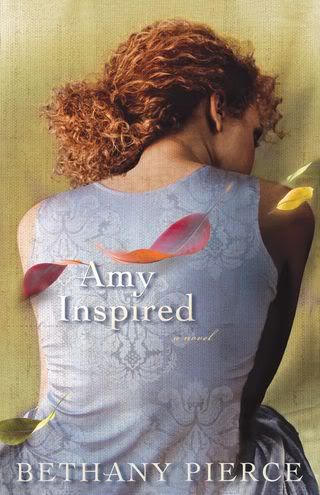 Amy Inspired
by
Bethany Pierce
Genre:
Contemporary Christian Fiction, Literary Fiction
Pages: 318
Date Published:
October 2010
Publisher:
Bethany House
Source:
I received a free review copy of this book through the
Bethany House Book Reviewers Program
.
Rating:
4.5 of 5 stars
Back Cover Blurb:
Amy Gallagher, aspiring writer, has an unabashed obsession with words. She gave up a steady, albeit unexciting, job to pursue a life of writing. However, two years and one master's degree later, she finds herself almost exactly right back where she started. Discouraged by the growing pile of rejections from publishers and afraid that she has settled, Amy knows something has to change.
Then she meets the mysterious, attractive, and unavailable Eli. Amy finds herself struggling to walk the fine line between friendship and something more with Eli, even as she tries to cope with the feeling that her friends and family are moving on without her. When the unexpected begins pouring in, Amy doubts the love and fulfillment she seeks will ever come her way. Forced to take a close look at who she has become, the state of her faith, and her aspirations for her life, she must make a choice: play it safe yet again or finally find the courage to follow her dreams.
♦♦♦♦♦♦♦♦
Amy Inspired
reads more like literary fiction, and in my (admittedly limited) experience, I don't come across many Christian Fiction novels like this. I marked numerous pages in this book with little sticky tabs that had passages that particularly moved me or seemed especially insightful. Ms. Pierce definitely has a way with words. Here is an example. When asked whether she believes in heaven, this was main character Bethany's reply:
Of course I said yes. But in moments when I really considered my faith I was sometimes alarmed by all of it--by what odd and miraculous things Christians believe. I pushed my plate aside, crossed my elbows on the table. "This will seem off-topic, but I've always been fascinated by science--anatomy, quantum physics, space and time theory. I don't understand these things, but the mystery is a part of what attracts me to them.
That the world I live in now is complex beyond my understanding only encourages me to believe that there are wild possibilities in creation beyond even the things of this dimension of time and space. If this universe has alternate dimensions outside of our understanding, isn't it possible that we might exist in a life beyond this one, in another kind of dimension that is fuller and more alive than the one we know?"
I loved this musing on heaven--and the admission that sometimes she was alarmed by the "odd and miraculous things" that Christians believe--I'd be lying to say that I've never felt the same way at times. This was just an example of some of the passages that grabbed me. I posted some of my favorite quotes from this book on my new Tumblog,
so click here if you want a taste
.
The story takes some time to develop. Amy seems to bumble around trying to find inspiration and answers for a long time, but the way it happens feels authentic. Too often in novels the action is so steady and the characters so decisive and sure that sometimes it feels unrealistic. In real life, we fumble around while we try to get our feet under us to move forward. That's the way it felt with Amy.
Amy's artist friend Eli is not your typical romantic interest. He doesn't pursue Amy because he is in a (rocky) relationship already. They don't have particularly romantic moments--many of their moments are quite awkward as they try not to get too close--but you can see them draw closer to each other over time, even through mistakes and confusion. Eli is an interesting character--sensitive and quietly appealing--but not the kind of guy that most women readers would necessarily pine for. He doesn't sound like my type at all, but his quiet presence seems to be just what Amy needs.
When I first started reading the book I had mixed feelings. I didn't connect with Amy right away (though I definitely sympathized with her adjunct professor gig--I just finished grading final exams, yay!). As I read, though, the way Amy mused about her faith and her life drew me in. Ultimately, this book had a quiet dignity that resonated with me. I really liked it, and I think anyone who aspires to be a writer (or who has ever struggled with finding inspiration in a life that has begun to feel stale) would particularly enjoy this story.
Related Linkage: