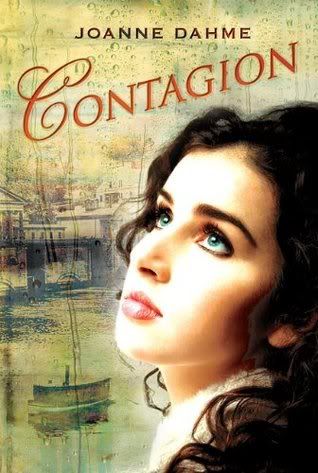 Contagion
by
Joanne Dahme
Genre
: YA Historical Fiction, Suspense
Pages
: 399
Date Published
: October 19, 2010
Publisher
:
Running Press
Source
:
Star Book Tours
Rating
: 3.5 of 5 stars
Book Description (from the
publisher
):
Rose Dugan is a young and beautiful woman living in Philadelphia in the late 19th century passionate about keeping Philadelphia's water reservoir clean and healthy. But when Rose starts receiving threatening letters, warning her to convince her husband to shut down his plans for a water filtration system or else, things take a turn for the worse. A conspicuous murder and butting heads cause Rose to search for the culprit, the truth, and a way to keep the people of Philadelphia safe from contagion in more ways than one.
♦♦♦♦♦♦♦♦
Most of the important action of this book takes place at the Fairmount Water Works in Philadelphia--the characters go home and to other locations in the city, but Fairmount is the most important place to the story. But really, why not? The location is beautiful, and Ms. Dahme portrays that beauty quite ably. Here's an 1842 watercolor of the place we're talking about:
Isn't it pretty? I wish I could see it in person.
The story takes place at a time when typhoid is a very real fear. Most of the characters in the story have lost at least one family member to the disease. Rose Dugan's contractor husband Patrick wants to build filtration plants for the city to help clean the water. Sean Parker, who works at Fairmount, wants the existing sewage regulation laws to be enforced so that his Water Works isn't abandoned. The struggle between those who are in favor of expensive filtration plants and those who are against it takes on special meaning for Rose, who begins to receive threatening letters telling her to convince her husband to stop pursuing city contracts for filtration plants. When her best friend is murdered at the Water Works, Rose is convinced that it wasn't just an accident. In the midst of this turmoil is the reality of Philadelphia politics, which is filled with dishonest politicians and a corrupt Republican party machine.
The idea of this book really captured my imagination. When the spectre of possibility that typhoid might be used as a weapon was raised in this book, I was riveted. What an interesting idea, and the execution of that part of the story was thrilling. Ms. Dahme's expertise as a Watersheds Programs Manager for the Philadelphia Water Department really shines through. There were some great passages in this story that really kept my attention and made me want to read more.
Unfortunately, other parts of the book were not as exciting. There were a few things that didn't really work for me in Contagion. First, the story is told in a dual-first-person narrative, from the point of view of the heroine, Rose Dugan, and Sean Parker, who works at the Fairmount Water Works and turns out to be our hero. I didn't really like this kind of narration in this instance--it took me a while to get used to the changing points of view. Second, some of the Water Works details were tedious, most notably in Sean's first chapter. I understand the need to provide some background information on the most important location to the story, but it was a bit overwhelming to start with when I was just trying to get used to the dual-first-person narrative.
Probably what most annoyed me, though, was that as a character Rose was a bit unbelievable. **SPOILER ALERT** I know she is young and that she idealizes her handsome husband, but she was way too easily convinced of his explanations for everything. Anytime she voiced suspicion he had an easy reply, and she always believed him. I thought he was shady from the very beginning and yet she placed all of her trust in him right up until he locked her in a mausoleum. I kept wondering why such a smart girl would not be more suspicious of him with all of the clues she kept uncovering and questioning him about. She was just so wishy-washy with him--she wanted so badly to believe him that she turned a blind eye to his nefariousness. But that made the story frustrating for me--I figured out what was going on very early and had to wait too long for Rose to open her eyes to it. **END OF SPOILERS**
My favorite characters in the story ended up not being the the two main characters in the story (Rose and Sean) but were several of the supporting characters. Julian worked for the Dugans--he often drove Rose around town and made sure she was safe. He was one of my favorites because Rose could always depend on him. My other two favorites were Detective Buchanan and Officer Russo, the two men who investigated Rose's best friend's death and helped uncover the conspiracy regarding the city's water supply. They were surprisingly free from corruption and had some funny parts in the story.
Contrary to how it might sound, I did like this book. I thought it could have been executed better without the dual-first-person narrative and with a more believable heroine, but overall I liked the suspense aspect and the premise. I have a special interest in water issues (one of my research interests in graduate school) and that aspect of the story really captured my imagination. If you like historical fiction and suspense, and find late 19th century politics interesting, you would probably really enjoy this book. But if you don't like dual-first-person narratives or get bored quickly with too much description, you might have a really hard time getting past the second chapter.
Related Linkage: