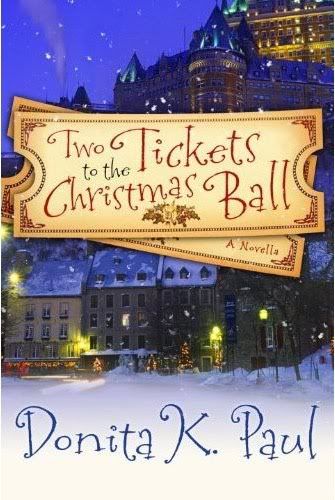 Two Tickets to the Christmas Ball
by
Donita K. Paul
Genre:
Contemporary Christian Fiction, Romance
Pages:
226
Date Published:
October 2010
Publisher:
Waterbrook Multnomah
Source:
I received a free review copy of this book through the
Waterbrook Multnomah Blogging for Books program
.
Rating:
4.5 of 5 stars
Back of the cover blurb:
In a sleepy, snow-covered city, Cora Crowder is busy preparing for the holiday season. As she searches for a perfect gift, a fortuitous trip to Warner, Werner, and Wizbotterdad's (a most unusual bookshop) leads to an unexpected encounter with co-worker Simon Derrick. And the surprise discovery of a ticket for a truly one-of-a-kind Christmas Ball.
Every year, the matchmaking booksellers of the Sage Street bookshop host an enchanting, old-fashioned Christmas Ball for the romantic matches they've decided to bring together.
This year, will Simon and Cora discover a perfect chemistry in their opposite personalities and shared faith? Or will the matchmakers' best laid plans end up ruining everything this holiday?
♦♦♦♦♦♦♦♦
This book is truly a magical experience. Cora Crowder is looking to discover the magic of Christmas. She's been searching for it for years, especially since her childhood definitely did not provide a good example in that area. She volunteers to help at homeless shelters, she buys her family gifts, she sings with her church choir, but she never really feels the Christmas spirit. Then one day she bumps into Simon Derrick at a quaint old bookshop. Simon is her boss's boss--a serious and formal man who she's never really gotten to know in her five years at her job. And then they seem to cross paths repeatedly. They get to know each other and they both begin to let down their guard.
While Cora lives alone with her cat, Simon lives with his extended family. After his father died, he became the breadwinner. Simon has a lot of responsibilities, and he has kept his personal life separate from his work life. But getting to know Cora and watching her become friends with his sister (who has Down Syndrome) has changed things.
The budding romance does run into some bumps in the road when Cora's untrustworthy sister shows up at her doorstep. Her arrival creates tension and disagreement between Cora and Simon. It also is the one thread of the story that gave me some trouble. How should a Christian react in their situation? I was left in the end not really knowing what the right steps would be in dealing with a manipulative and thieving family member. I kind of wish a stronger statement had been made in that part of the storyline, but it didn't detract too much from my enjoyment of the story.
This book has a magical undercurrent running through it. The main characters (and the reader) are never quite sure if Sage Street is real. There are many references to Wizards, and it is pointed out that "the Anglo-Saxon term 'wizard' simply refers to older, wise people, as in 'wizened'" (108). Regardless of the explanation, some Christian readers won't like the magic or the fantasy aspect of this novel. I quite enjoyed it, though. I think this is the closest thing to
magical realism
I've seen in a Christian fiction book, and I think Ms. Paul did a fine job of it.
Two Tickets to the Christmas Ball
was like one of those surprise presents you find under the tree that turns out to be an unexpected treasure after you open the wrapping. If you're looking for a Christmas romance with a dose of Christian themes and a twist of magic, this book is for you!
Related Linkage:
Reading Challenges: 2010 Holiday Reading Challenge