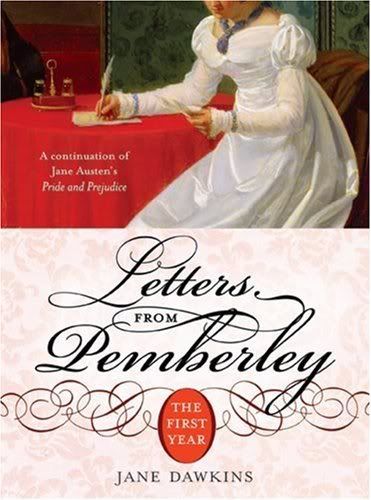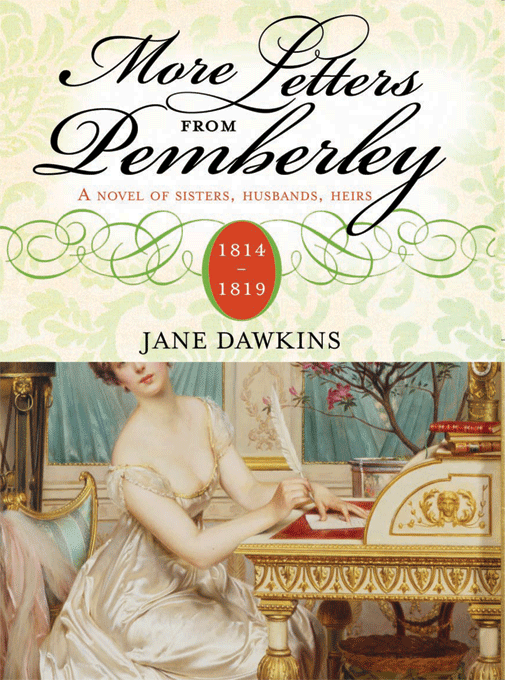 I read
Letters from Pemberley: The First Year
and
More Letters from Pemberley: 1814-1819
in sequence. I picked them up at a yard sale held by a teacher friend of mine. They seemed like they would be a fun diversion over Christmas break. I was not disappointed in that assumption, and in fact these books were wonderful companions on one of several long car trips we made over the holidays.
I enjoy all things Austen (so far) though I wouldn't consider myself an Austen expert. I think I've read
Pride and Prejudice
three times in my life, and after reading this enjoyable set of books I have been greatly tempted to pick it up again. To me, what made these books believable (and acceptable) Austen continuations was that they were written as a collection of letters. It wasn't as if Ms. Dawkins was trying to step into Jane Austen's shoes and write in exactly the same style to follow these beloved characters. Instead, the letters move the story more into Lizzy's point of view since all of the letters are written by her. You don't get as much of a view of the whole story because of this singular viewpoint, but you get a good idea of what the other characters may have said to Lizzy in her replies to their correspondence.
Of the two volumes, I ended up liking the second volume (
More Letters From Pemberley: 1814-1819
) the most. The events discussed in the letters were more dramatic and life-changing, and I found myself blinking back tears at one particularly heartbreaking time in Lizzie's life. I won't go into more detail than that, since I think part of the charm of reading these books was in not knowing how the characters' lives would turn out.
I thought that the direction that Ms. Dawkins took the characters in these
Pride and Prejudice
sequels was believable and enjoyable. The two books were also very easy to read and understand. If you can't seem to get enough
Pride and Prejudice
in your reading diet, I would recommend
Letters from Pemberley
and
More Letters From Pemberley
without hesitation.
Publication information:
Letters From Pemberley: The First Year by Jane Dawkins
Genre: Historical Fiction
Pages: 224
Date Published: 2007
Publisher: Sourcebooks
Rating: 4 of 5 stars
More Letters from Pemberley: 1814-1819 by Jane Dawkins
Genre: Historical Fiction
Pages: 224
Date Published: 2008
Publisher: Sourcebooks
Rating: 4.5 of 5 stars
**FTC: I purchased both of these books with my own money.
Reading Challenge: Everything Austen II