Since I'm a little behind on posting reviews of some of the books I read in 2010, I thought I'd write some quickie reviews. Today, I'm focusing on Young Adult Fantasy.
Child of the Dark Prophecy
by T.A. Barron (Book 1 of The Great Tree of Avalon trilogy)
ACE Books, 2004.
Pages: 357
Source: Paperback Swap
Rating: 4 of 5 stars
When the stars in the Wizard's Staff constellation begin to fade, the race begins to find Merlin's true heir, the person destined to save the world from the one prophesied to bring an end to it.
Amelia at Imagination in Focus
brought this series to my attention
, and I'm glad I picked it up. I enjoyed the unusual world that Barron created here (a world founded by Merlin that is based on a single tree, with seven lands existing on the roots) and the mythology was interesting as well. The way the health of the land was tied to everything--the colors, the magic, etc.--sparked my imagination. I sort of felt like I was missing something by not having read Barron's Merlin books, but since I haven't read them I don't know how related they are to this trilogy. I would recommend this book to any reader who enjoys high fantasy. I plan to read the next book in the series (and already have it waiting here on my TBR shelf).
*~
Author's website
~
Read an excerpt
~ Purchase at
The Book Depository
or
IndieBound
(affiliate links) ~*
♦♦♦♦♦♦♦♦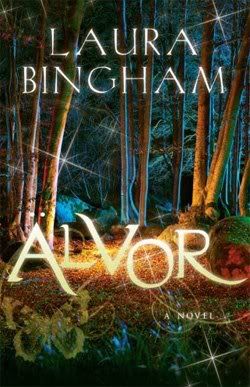 Alvor
by
Laura Bingham
Sweetwater Books, 2009.
Pages: 276
Source: I won a copy of this book from
PageTurners Blog
.
Rating: 4.5 of 5 stars
While hiking in the hills behind their Pennsylvania home, teenaged twins Erin and Bain discover their magical abilities, enter a fantasy fairy world, and train to become elves. I wasn't sure what to expect from this book (the cover initially caught my eye), but it turned out to be a pleasant surprise. The whole elf training concept was great--I thought it was pretty original and interesting. My favorite aspect was that when Bain disappears, Erin sets off to find him. The rescue gets a bit complicated, but it was quite suspenseful. I loved that Erin develops a connection with a dragon--one of my favorite mythical creatures! This seems to be the first book of a trilogy, so I'll be looking forward to reading the next installment, which is
planned to release in April
.
*~
Author's website
~
Read an excerpt
~ Purchase at
The Book Depository
or
IndieBound
(affiliate links) ~*
♦♦♦♦♦♦♦♦

Harry Potter and the Deathly Hallows
by
J.K. Rowling
(Book 7 in the Harry Potter series)
Arthur A. Levine Books, 2007.
Pages: 759
Source: I bought this brand-new on the day it was released.
Rating: 5 of 5 stars
This was certainly a re-read for me (I immersed myself in it the first time on the day I purchased it). I picked it up again in anticipation of Part I of the film version. It was just as good as I remembered it to be. Even though the main characters spend so much time in the woods, frustrated, there is still an extraordinary amount of action in this book. And although I knew what would happen, it still brought tears to my eyes when Snape's true nature was unveiled, when Harry makes the ultimate sacrifice, and when we learn the fate of Tonks and Lupin (among other tear-inducing events). This was a fabulous conclusion to the series, a series that continues to hold the top spot in my all-time favorites list.
*~
Author's website
~
Quotes from the book
~ Purchase from
The Book Depository
or
IndieBound
(affiliate links) ~*
♦♦♦♦♦♦♦♦