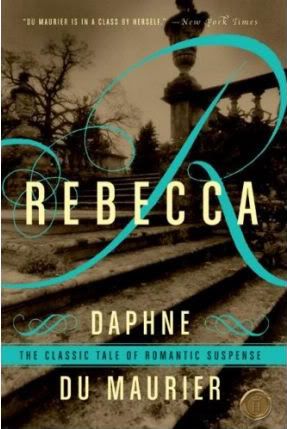 Rebecca
by
Daphne Du Maurier
Genre
: Romantic Suspense, Classic
Pages
: 416
Date Published
: 1938 (I read a 1997 reprint)
Publisher
:
Harper Collins
Source
:
BookMooch
Rating
: 4.5 of 5 stars
Book description
(from the
publisher
):
Last night I dreamt I went to Manderley again...

With these words, the reader is ushered into an isolated gray stone mansion on the windswept Cornish coast, as the second Mrs. Maxim de Winter recalls the chilling events that transpired as she began her new life as the young bride of a husband she barely knew. For in every corner of every room were phantoms of a time dead but not forgotten—a past devotedly preserved by the sinister housekeeper, Mrs. Danvers: a suite immaculate and untouched, clothing laid out and ready to be worn, but not by any of the great house's current occupants. With an eerie presentiment of evil tightening her heart, the second Mrs. de Winter walked in the shadow of her mysterious predecessor, determined to uncover the darkest secrets and shattering truths about Maxim's first wife—the late and hauntingly beautiful Rebecca.
❦❦❦❦❦❦❦
Shortly after I wrote
my first readalong check-in post
(in which I mostly complained about the narrator), I started to love this book. The first half tended to be too introspective on the narrator's part, but the second half was so awesome that it made up for the things I complained about in the first half!
Here's a quick run-down of what's going on: The narrator is a young woman who has married Maxim de Winter, an older widower. She is unsure of herself and tends to the dramatic, and when they settle down to live in Manderley, Maxim's family estate, she imagines that she sees his first wife, Rebecca, everywhere. Everything is just as Rebecca had designed it, and the housekeeper, Mrs. Danvers, seems to loathe the new Mrs. de Winter simply because she is not Rebecca. An entire wing of the house is kept just as Rebecca left it, with her clothes laid out and bed made up. Everyone talks about how wonderful Rebecca was, and how different the new Mrs. de Winter is. But what really happened to Rebecca? Is Maxim really still so enamored with Rebecca that the new Mrs. de Winter simply cannot compare?
The second half of this book had so many unexpected twists that I was left breathless. It was surprising that Mrs. de Winter went from being timid and despondent over Maxim's seeming obsession with Rebecca to a more mature and decisive woman as she realized that Rebecca wasn't the perfect image that she had imagined in her head. I loved that Maxim's feelings weren't at all what they had first seemed, but I was shocked by what the truth was. I was a little surprised that Mrs. de Winter didn't feel any discomfort over what Maxim revealed to her about his first marriage. Then when Rebecca's body was discovered and the investigation into her death was reopened, it was non-stop suspense. We knew what happened, but would the authorities figure it out? But wait, we didn't really know all of the details! Even more shocking information is revealed that turns everything on its head! The ending was a little bit disappointing, but on final reflection I can accept it. The aspects of the ending that leave you conjecturing about what happened is actually rather satisfying. It is a book that will stick with you for a long time.
I only marked one quote in the second half, and I loved this little excerpt because it really hits home for me (a pretty shy, introverted person):
I wondered how many people there were in the world who suffered, and continued to suffer, because they could not break out from their own web of shyness and reserve, and in their blindness and folly built of a great distorted wall in front of them that hid the truth. (276)
*sigh* It's like the author knows me personally. It's almost comforting to know that I'm not the only one who feels this way. When I think more about what annoyed me so much about the narrator at the beginning, I think maybe it was that she exhibited some of the things that I dislike about myself. I feel a little ashamed to complain about her when I know I have been like that in the past.
Rebecca
was a fantastic read, and I would consider it a classic. It was written 73 years ago and it is still in print, is widely read, and is a favorite on many people's lists. It has staying power. I'm really glad I joined this readalong. It gave me a push to read a book that has been sitting on my TBR shelf for a long time, and it was fun to interact with other people who were reading it at the same time.
Related linkage:
Reading Challenges: TwentyEleven Challenge (Way Back When), Mystery & Suspense, Classics Challenge