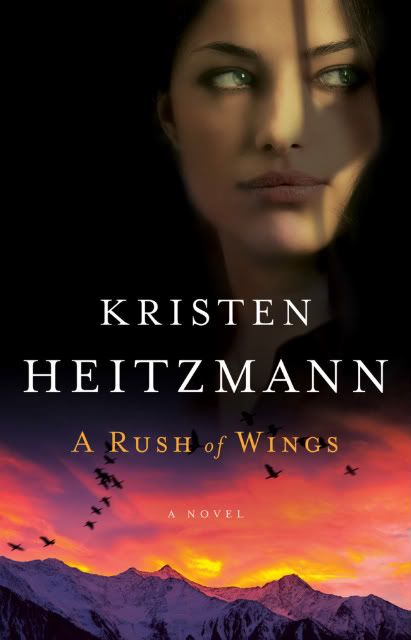 A Rush of Wings
by
Kristen Heitzmann
Genre:
Christian Romantic Suspense
Pages:
382
Date Published:
2003 - I read a 2010 reprint with a new cover.
Publisher:
Bethany House
Source:
The
Bethany House Book Reviewers Program
provided me with a free review copy of this book.
Rating:
5 of 5 stars
Book Description
(cover blurb):
Though her panic is real, Noelle St. Claire is uncertain what danger she is fleeing. Fragmented images and slivers of memory have driven her to abandon her wealthy, sheltered life in New York for the hope of a haven--remote and safe.
Noelle's arrival at the Rocky Mountain horse ranch owned by Rick Spencer and his brother Morgan causes more than a little stir. Beautiful, vulnerable, yet strangely secretive, Noelle is an enigma the two contrasting brothers seek to unlock. But as their attentions breach the wall she hides behind, the past becomes a menacing threat from which Noelle can no longer hide.
♦♦♦♦♦♦♦♦
Do you ever find it difficult to write a review for a book that you really liked? I have put off writing this review for way too long, especially considering it was
a 5-star read
for me! I tend to shy away from contemporary books that depict cowboys (no offense to those who love cowboys in books, they just aren't my favorite), but I decided to give this one a try because it is by an author that I have previously read and enjoyed (
Kristen Heitzmann - The Rose Legacy
). I'm really glad I did--the cowboys in this contemporary Christian romantic suspense novel didn't seem stereotypical to me, and it turned out to be a fantastic read!
The way that the reader is introduced to Noelle leaves a lot of questions needing answers. Neither the reader nor Noelle know exactly what (or who) she's running from at first. All we know is that she is scared out of her wits and looking for someplace to hide for a while. Rick Spencer doesn't seem too happy to have her boarding at his ranch, but he also can tell that she is scared of something so he breaks his own rules and lets her stay in one of the rooms in the main house. Rick and his brother Morgan are two very different men, and they both develop feelings for Noelle. And while she has feelings for both brothers as well, making a decision on one of them results in very strained relations within their family.
The danger and evil that Noelle was running from eventually hunts her down and provides a suspenseful and frightening climax in the story. But the story has become more complex by then and must continue on. With the danger gone, Noelle must decide whether she would rather remain with the Spencers or return to her old life in New York. It takes her a year to make that decision, during which the man who loves her is heartbroken and seriously questions his faith. Even with the danger out of the way by this point, the suspense is ratcheted up again as they both struggle with their faith, their decisions, and their hearts, wondering if they will be able to pick up the pieces.
A Rush of Wings
was originally published in 2003 and has been reprinted with a pretty new cover in 2010. This was a fabulous choice for reprinting by Bethany House. The suspense was great, the romance bittersweet, and the faith aspects very thought-provoking. I highly recommend it to anyone who enjoys romantic suspense.
Related Linkage: