So today I'm debuting a new button for this meme (feel free to use it). You are welcome to keep using the
old one
if you prefer, I just felt like freshening the place up a little.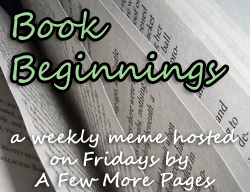 With this little tweak of the button, I also wanted to let you know that you are welcome to post your book beginning at any time during the week and come link up here. I keep the linky open for the whole week, so don't feel like you can't participate if you are busy on Friday.
How to participate:
Share the first line (or two) of the book you are currently reading on your blog or in the comments. Include the title and the author so we know what you're reading. Then, if you feel so moved, let us know what your first impressions were based on that first line, and let us know if you liked or did not like the sentence. The link-up will be here at
A Few More Pages
every Friday.
Thanks to
Becky at Page Turners
for starting this meme and to
Rose City Reader
for inspiring it!
Next week I'll be reviewing
The Mapping of Love and Death by Jacqueline Winspear
for a TLC Book Tour. Here's the first line from the prologue:
Michael Clifton stood on a hill burnished gold in the summer sun and, hands on hips, closed his eyes.
This is the 7th book of the Masie Dobbs series, and although this is my first foray into this series, I'm loving it. I quite liked this first line. I could almost feel the warmth of the sun and see the glowing light behind my eyelids. Lovely.
So, what is the first line of your current read, and how did you like it? Please leave the link to your specific post, not just to the front page of your blog.
---
---