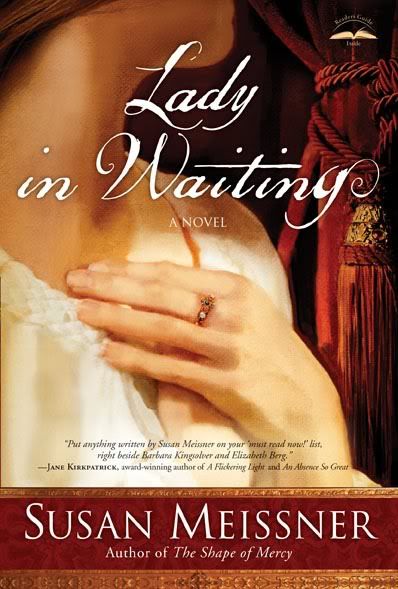 Lady in Waiting
by
Susan Meissner
Genre:
Historical Fiction AND Contemporary Fiction
Pages:
332
Date Published:
September 2010
Publisher:
WaterBrook Press
Source:
I received a free review copy through the
WaterBrook Multnomah Blogging for Books Program
.
Rating:
4.5 of 5 stars
Book description (from the back cover):
Love is a choice you make every day.
Content in her comfortable marriage of twenty-two years, Jane Lindsay had never expected to watch her husband, Brad, pack his belongings and walk out the door of their Manhattan home. But when it happens, she feels powerless to stop him and the course of events that follow Brad's departure.

Jane finds an old ring in a box of relics from a British jumble sale and discovers a Latin inscription on the band with just one recognizable word: Jane. Feeling an instant connection to the mysterious ring bearing her namesake, Jane begins a journey to learn more about the ring--and perhaps about herself.
In the sixteenth-century, Lucy Day becomes the dressmaker to Lady Jane Grey, an innocent young woman whose fate seems to be controlled by a dangerous political and religious climate, one threatening to deny her true love and pursuit of her own interests.

As the stories of both Janes dovetail through the journey of one ring, it becomes clear that each woman has far more influence over her life than she once imagined. It all comes down to the choices each makes despite the realities they face.
❦❦❦❦❦❦❦
This book grabbed my interest with the mention of Lady Jane Grey. Related to King Henry VIII on her mother's side, she was fifth in line to the throne. After the death of Henry's son Edward VI, she was thrust into a series of political machinations that resulted in her being declared her Queen of England--never mind that Princess Mary and Princess Elizabeth were in line before her according to Henry's will. The religious conflict of the time made this possible, as some in the country didn't want Catholic Mary to become queen, and they saw Jane as a way to accomplish this. Her rule did not last long (9 whole days), as the people ultimately did not accept her over Mary. I have always found Jane Grey interesting and wanted to learn more about her. Although this book is a work of fiction, Ms. Meissner has done a nice job of weaving historical details in with the fictional story.
The story of Lady Jane Grey (told through the words of her dressmaker Lucy Day) is tied to the story of present-day Jane Lindsay in that both Janes have a feeling of powerlessness over their lives. Lady Jane seems a victim of the times, her gender, and the political aspirations of her parents, while Jane Lindsay has allowed others to make decisions for her out of fear. As each woman faces seemingly unbearable changes in their lives, they come to realize that they are ultimately responsible for their happiness, and that they have more power over their lives than they thought they did.
The format of this book was more intriguing than I expected. At times it could feel disjointed when it jumped from the history to the past and back again, but I enjoyed both the historical and contemporary threads of the story. They both felt realistic to me as I read--the characters were clearly not perfect people and that made them quite believable. I liked that the author included a note explaining which aspects of the novel were based on history and which aspects were fiction. That was helpful for me, since I have just a rudimentary knowledge of Lady Jane Grey.
The way the book approached issues of faith was subtle and not preachy. Faith obviously played an important part in Lady Jane's life, especially since she refused to convert to Catholicism to avoid being executed after Queen Mary came to power. When faith came into the contemporary thread of the story, it was not overbearing. I think even readers who generally shy away from Christian fiction would not be turned off by the faith aspects of the story.
I'm very glad I read this book, even when it touched on issues that could be uncomfortable (like marital problems and family conflict).
Lady in Waiting
was enjoyable and interesting, and I would very much like to try another book by Susan Meissner. I would recommend this book to fans of both contemporary and historical fiction.
Related Linkage:
Reading Challenges: Historical Fiction, What's in a Name 4 (Life Stage Title)