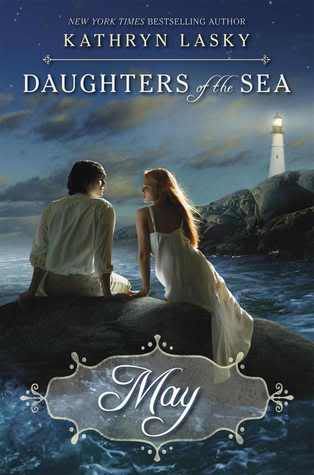 May
by
Kathryn Lasky
Daughters of the Sea # 2
Genre:
YA Historical Fiction/Fantasy, Romance
Pages:
336
Date Published:
March 2011
Publisher:
Scholastic Press
Source:
Star Book Tours
Rating:
3.5 of 5 stars
Book Description
(from the
publisher
)
:
May feels her life drying up. The sea calls to her, but her parents forbid her from swimming. She longs for books, but her mother finds her passion for learning strange. She yearns for independence, but a persistent suitor, Rudd, wants to tame her spirited ways. Yet after her fifteenth birthday, the urge to break free becomes overpowering and May makes a life-changing discovery. She does not belong on land where girls are meant to be obedient. She is a mermaid-a creature of the sea.
For the first time, May learns what freedom feels like-the thrill of exploring both the vast ocean and the previously forbidden books. She even catches the eye of Hugh, an astronomy student who, unlike the townspeople, finds May anything but strange. But not everyone is pleased with May's transformation. Rudd decides that if can't have May, no one will. He knows how to destroy her happiness and goes to drastic measures to ensure that May loses everything: her freedom and the only boy she's ever loved.
❦❦❦❦❦❦❦
I know there has been a lot of recent mermaid fiction geared toward young adults, but as of yet I've been hesitant to read it. I like mermaids, but I guess I've been afraid to try them because I don't want to be disappointed. This book caught my eye because of the historical setting and the pretty cover (yes, covers sometimes influence my reading decisions). The author also intrigued me, because she is the author of the popular Guardians of the Ga'Hoole series.
The first thing that I loved about this book was the lighthouse! May lives with her parents in a lighthouse on the coast of Maine near the turn of the twentieth century. The details about the lighthouse were fantastic! I visited a historic lighthouse a couple of summers ago in Oregon, and the description of May's lighthouse was spot-on of what I observed and learned about in person. Her descriptions took me back in my mind's eye to that lighthouse visit.
May starts out as your typical teenage girl struggling to find herself and happiness. She isn't completely happy in her home life, and when her mother (a hypochondriac who wants attention and to be taken care of) lets it slip that she isn't really her mother, she feels a bit of relief. But it also inspires her to learn who she really is--who her real parents are, and what happened to them. She has always felt at home with the sea, though her father never lets her swim in it. She finally takes a chance and discovers that she is not only adopted, she is also a mermaid.
I didn't realize at first that this is the second book in a series, and in the beginning of the story it doesn't really matter. Later on, though, May discovers a sister (Hannah, the main character of the first book in the series), and I felt like I was missing a good chunk of the story about her. It made me want to read that first book so I would have more understanding of some of the revelations Hannah and her painter friend bring in. This book is also obviously not the last in the series (I believe there are four books planned altogether), as there are many strands of the story left up in the air at the end that will surely be resolved in later books in the series.
May
was an enjoyable read, with some fun historical details and a fair dose of suspense. May's first disappointed suitor, Rudd, made me nervous every time he entered the story and I'm sure we have not seen the last of him. I would characterize this YA novel as aimed at a younger YA audience, and I think girls will especially like it. I enjoyed this book and would recommend it, but highly suggest that you start with the first book in the series to get a better grasp of the overall story.
Related Linkage:
Reading Challenges: TwentyEleven Challenge (YA)