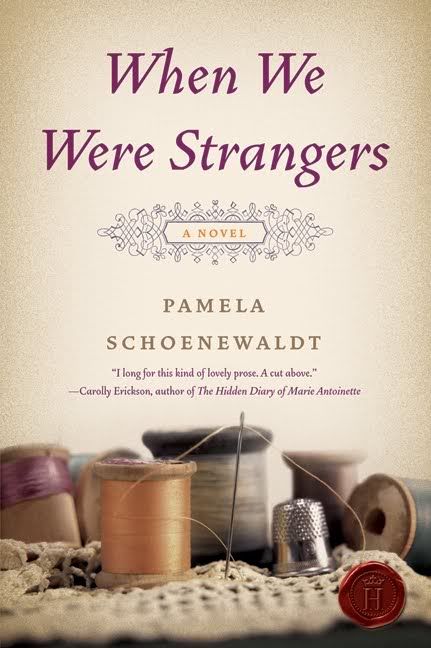 When We Were Strangers
by
Pamela Schoenewaldt
Genre:
Historical Fiction
Pages:
336
Date Published:
January 25, 2011
Publisher:
Harper
Source:
I received a bound galley of this book for review as part of a
TLC Book Tour
.
Rating:
5 of 5 stars
Book Description
(from the
publisher
)
:
"If you leave Opi, you'll die with strangers," Irma Vitale's mother always warned. Even after her beloved mother's passing, 20-year-old Irma longs to stay in her Abruzzo mountain village, plying her needle. But too poor and plain to marry and subject to growing danger in her own home, she risks rough passage to America and workhouse servitude to achieve her dream of making dresses for gentlewomen.
In the raw immigrant quarters and with the help of an entrepreneurial Irish serving girl, ribbon-decked Polish ragman and austere Alsatian dressmaker, Irma begins to stitch together a new life . . . until her peace and self are shattered in the charred remains of the Great Chicago Fire. Enduring a painful recovery, Irma reaches deep within to find that she has even more to offer the world than her remarkable ability with a needle and thread.
❦❦❦❦❦❦❦
Before I get started, I just wanted to point out that this is my favorite book of 2011 so far. What is sure to follow is a gushing fangirl review that cannot recommend this book enough and will probably not do the beauty of this book justice. But I will try.

When We Were Strangers
transports the reader from the high and rural hills of Irma Vitale's family home in Opi, Italy, through her long journey to America and opportunity. She is a small town girl, going out into a world bigger than she has ever imagined, with only her sewing skills and the kindness of strangers to help her succeed.
I had made dresses, altar cloths, aprons, cheese and wine. But how to make a life? Tiny stitches crept across the cloth. Could I make a new life thus: one stitch at a time?

(29-30)
She goes alone to America (a terrifying prospect for a young person leaving home for the first time who has never been further than the next town over), and while she learns that some strangers can be dangerous, she also realizes that others can become your best and most trustworthy friends.
When We Were Strangers
is a beautiful immigrant story. Set during the 1880s, the historical detail throughout the book enchanted me--Irma's experiences on the ship to America, her search for work in a foreign country, the nature of her work as a seamstress, the limited opportunities that existed for young single women, Irma's volunteer work at a medical clinic--it was all so realistic and interesting. And when things went wrong, she had her genuine moments of doubt:
Why had I come to America? That I might live? For whose sake? Not for my people, all dead, disappeared or making new families without me. Not to earn passage home, I was slowly concluding, for who would truly welcome me there? In my father's house a new babe would more than fill the space that once was mine. In Opi I rarely questioned my life. One does not ask "why" in a hunger year, only: "What will I eat tomorrow?" My ancestors who climbed our mountain never asked why. But alone in Chicago, a steady "why" oppressed me.

(167)
I also enjoyed the different places that Irma landed to try to make a life: Cleveland, Chicago, and San Francisco. The people that become important to her, though, made the story all the more touching. Irma was alone in America. She didn't know anyone but was able to make truly special friends who stuck with her through thick and thin. She may have left her family in Opi, but she had created a circle of friends that was just as close as family.
I loved this book more than I can say. It is in turns beautiful, heartbreaking, hopeful, and meaningful. I could not help but love Irma for her humility and compassion for others, so that even with a large scar on her face, people were drawn to the loveliness that radiated from her very being. I am certain that this book will be high on my list of favorite books at the end of the year. I highly recommend it, and I think it would be a fantastic choice for book clubs as well. If you read a historical novel this year, I hope you pick up this one. It is wonderful. I can't wait to go buy a finished copy to reside on my keeper shelf.
Edited to add:
I didn't want to leave this review without including one of my favorite passages, where Irma talks about how much she is a part of Opi and Opi is a part of her:
Barely sixteen, I felt as old and shabby as my mother's brown shawl, melting into Opi and the place carved out for me. As I knew my own plain face in our tin mirror, I knew each stone in the four walls and floor of our house. I knew the narrow streets draped across the mountain crest like threads for lacework never finished, unraveling into shepherd's trails. These threads caught and held me like a web…. I knew the voices and shapes of our people. By the sound of their footsteps I knew which of them walked behind me. I knew the old women's coughs, the old men's stories, the good husbands and those who came home stinking drunk from wine on market day. I knew why the mayor's wife covered her bruises with a shawl. In a tapestry of Opi you'd see me in the shade of the olive trees with my dull brown hair and face turned away.

(4)
I love this section because it is so lyrical and because I can totally relate to it as a girl from a small town. Everybody knows everybody else, and everyone knows the dirt on everyone else. Can you tell I really loved this book?
(Reader's Advisory: Sensitive readers might want to know that this story depicts both a rape and an abortion. It's realistic, but it might be hard for some readers to handle.)
Related Linkage:
Reading Challenges: Historical Fiction